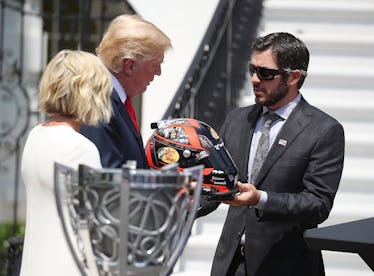 Trump Threw Shade At The NFL During A Speech For NASCAR
Mark Wilson/Getty Images News/Getty Images
During a speech at the White House on Monday, May 21, the president breathed new life into an ongoing feud with the American football community. The speech was during an event to honor 2017 NASCAR Champion Martin Truex Jr. Though he didn't explicitly mention the National Football League (NFL) by name, Trump's NASCAR speech about the national anthem wasn't terribly subtle.
Referencing NASCAR CEO Brian France, Trump said:
At every NASCAR race you will see thousands of patriotic Americans, from the grandstands to the pit stalls, proudly waving our flag, and roaring with joy at the words 'Start you engines.' And I will tell you one thing I know about NASCAR. They do indeed, Brian, stand for the playing of the national anthem.
Trump seemed well aware that his comment could be provocative, and apparently, so did his someone else advising him prior to the speech, but to no avail. He went on:
Somebody said, 'Maybe you shouldn't say that, that'll be controversial,' and I said, 'That's OK, NASCAR's not gonna mind it at all.' Right, fellas?
Trump's mention of the national anthem during his remarks signal a renewal of the months-long feud the president has waged with the NFL and a few of its most prominent players. The drama began when 49ers quarterback Colin Kaepernick took a knee during the national anthem in a season game during 2016 to protest the police brutality against people of color. The next year, Kaepernick's show of protest gained steam, and other players — and entire teams, in fact — began to join in solidarity. Trump didn't take well to this, calling the protest disrepectful. He went so far, in Twitter rants in 2017, to condemn players that participated in the protests, and responded negatively when the NFL announced it would not be punishing its players for exercising their right to protest.
He even went so far, in a rally in September 2017, to call the protesting players "sons of b*tches," and called on coaches to fire them. The following month, Trump instructed his Vice President, Mike Pence, to leave an NFL game if any of the players did participate in the protests.
Monday's remarks were notably more subtle than his comments in the past, however. While he didn't name Kaepernick, the NFL, or anyone else involved in the protest controversy, it was clear who he was referencing as the counterpoint to compare to NASCAR, and it didn't go above notice.
"Trump going full culture wars at NASCAR event," tweeted HuffPost's Marina Fang.
As Yahoo! Sports' Nick Bromberg pointed out, it didn't take Trump long to make the NASCAR event about him — or his NFL feud.
"It took less than three minutes for Donald Trump to mention that Brian France endorsed him for president," Bromberg said via Twitter, adding that it only too him "7 minutes and 40 seconds to mention that people stand for the national anthem at NASCAR races."
Referencing the national anthem might've been the most controversial thing Trump said in his speech, but it was hardly the most absurd. Eyeing Truex's car, the president didn't bother hiding his four-wheeled envy, and low-key joked about stealing the car, which was parked on the south lawn.
"I have to say, your car looks truly amazing," Trump said. "In fact, I want to get in that thing and just drive it right away. Do you mind? It's beautiful. It's incredible."
Presumably (hopefully), Trump wasn't serious about wanting to drive away Truex's car. But he didn't appear to be joking when he invoked the national anthem despite warnings that doing so might come across as controversial. And as he said himself: Hopefully NASCAR doesn't mind getting roped in to his NFL feud.