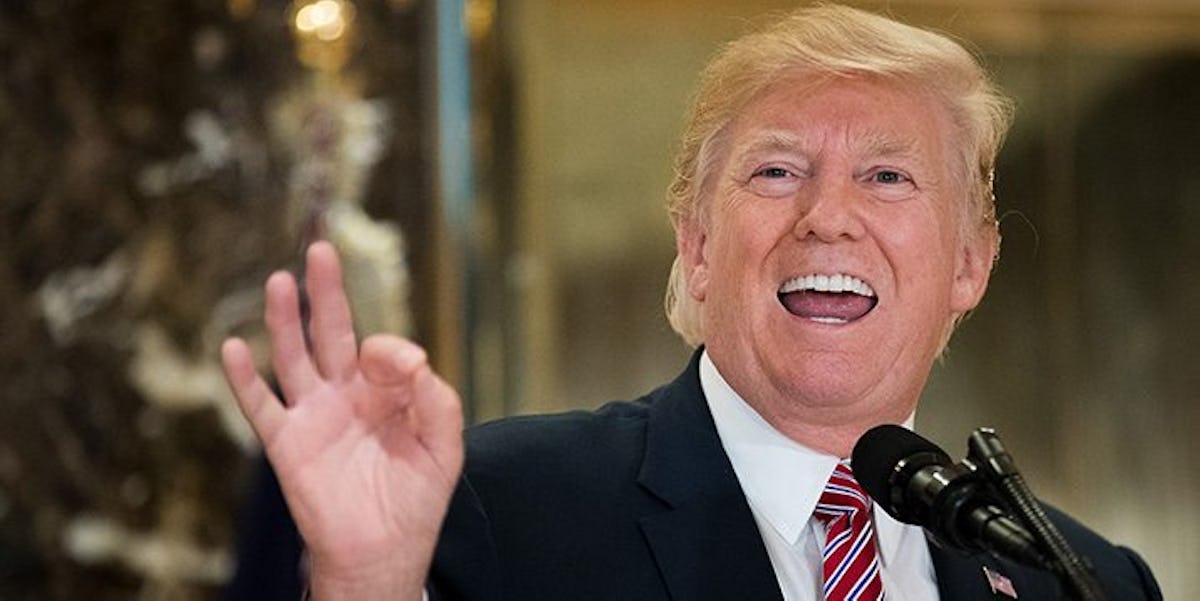 Trump Tweeted About The NFL Again And People Are Not Here For It
Drew Angerer/Getty Images
On Tuesday morning, Sept. 26, President Donald Trump tweeted about the NFL again to weigh in on the subject of protests that take place during the playing of the national anthem. In a series of three tweets, the president highlighted "great anger" while commenting on a demonstration that took place the night before, before a Monday Night Football game between the Dallas Cowboys and the Arizona Cardinals. Trump wrote,
The booing at the NFL football game last night, when the entire Dallas team dropped to its knees, was loudest I have ever heard. Great anger... But while Dallas dropped to its knees as a team, they all stood up for our National Anthem. Big progress being made-we all love our country!
The demonstration that took place before the start of the Monday night game did indeed feature a wrinkle to the kneeling-during-the-anthem gesture that was popularized by former San Francisco 49ers quarterback Colin Kaepernick.
Before the national anthem was played at the University of Phoenix Stadium in Glendale Arizona, where the game was played, Dallas Cowboys players and coaches -- accompanied by long-time team owner Jerry Jones -- all knelt while locking arms. Once the anthem began playing, they rose with their arms still linked.
Cardinals players also stood with arms linked, but without any kneeling at any point.
Here's what the president had to say about the demonstration in full:
Hours later, Trump would add that the league should ban kneeling during the anthem altogether.
The mention of "great anger" drew criticism on Twitter from a number of media members. CNN contributor Jason Kander wrote,
"Great anger" pleases the President. Better than great interest in: Mismanaged Puerto Rico recovery, STL protests, private emails, etc.
Another CNN personality, anchor Chris Cuomo, added,
Potus does what he wants and twitter reflects his priorities. Look at language abt NFL. "Great anger" - how does that unite?
Their criticisms joined those from others who perceived Trump's tweets as a flaunting of negative sentiments.
The genesis of the trend of players kneeling during the national anthem began after Colin Kaepernick drew attention for remaining seated during the playing of the national anthem before a game during the 2016 NFL preseason.
After explaining that his protest was about "this country [not] holding their end of the bargain up, as far as giving freedom and justice, liberty to everybody," Kaepernick said he decided to kneel instead of sitting after consulting with former NFL player and Army veteran Nate Boyer.
Kaepernick said at the time,
We were talking to [Boyer] about how can we get the message back on track and not take away from the military, not take away from fighting for our country, but keep the focus on what the issues really are. And as we talked about it, we came up with taking a knee. Because there are issues that still need to be addressed and it was also a way to show more respect to the men and women who fight for this country.
The focus of the national discourse related to Kaepernick has since shifted to other subjects besides those that the quarterback cited as reasons for his protest, with Trump's comments over the weekend prompting many to reassert right to free speech, particularly because the president said on multiple occasions that players should be fired for kneeling.
If NFL fans refuse to go to games until players stop disrespecting our Flag & Country, you will see change take place fast. Fire or suspend!
On Tuesday morning, he echoed that sentiment when he wrote,
The only way out for them is to set a rule that you can't kneel during our National Anthem!
Judging by the number of statements from the NFL and its teams opposing Trump's sentiment on the issue, however, that rule doesn't look likely to come any time soon.