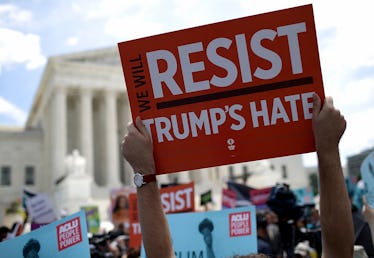 Everyone On Twitter Is Rallying Against The Muslim Ban Ruling & I'm So Inspired
Win McNamee/Getty Images News/Getty Images
After a months-long battle that began almost immediately after President Donald Trump entered the White House in January 2017, his controversial travel ban that prevents nationals from predominantly Muslim countries from traveling to the United States has officially been approved. The Supreme Court ruled in favor of the ban on Tuesday, June 26, sparking intense backlash from its opponents. But these tweets about the Muslim Ban after the Supreme Court's ruling prove that this fight is far from over.
The 5-4 ruling was officially finalized on June 26 with Chief Justice John Roberts and Justices Clarence Thomas, Anthony Kennedy, Samuel Alito, and Neil Gorsuch voting in favor of the ban. Chief Justice Roberts wrote the majority opinion, where he stated that the president "is squarely within the scope of presidential authority" to not allow the "entry of nationals who cannot be adequately vetted" into the United States. He also added that Trump's ban "says nothing about religion."
The current ban that's been approved by the Supreme Court prevents the entry into the United States by most nationals from Iran, Libya, Somalia, Syria, Yemen, North Korea, and some Venezuelan government officials and their families. This ban is largely regarded as discriminatory against Muslim people because five of the seven countries listed have a majority Muslim population.
While many people were horrified at the ruling, it's also clear that not all is lost. Those that hope this ruling will be reversed one day are already sending out messages that show strength and resilience in the wake of this ban's enforcement. On Twitter, the hashtag #NoMuslimBanEVER quickly appeared on the top 10 trending list in the United States on June 26.
And these tweets prove that this fight against this discriminatory ban is so far from over.
What's more, in many areas people quickly organized protests and demonstrations against the decision, literally standing up and saying that they will not abide any Muslim ban — ever.
These tweets and protests all share the same message — that this action against the people from the above-listed countries will not stand, and that there is hope for this injustice against Muslim people to be righted. This ruling didn't discourage those that don't want to see this ban happen, it motivated them to fight harder.
Trump's official presidential journey with the travel ban began when he signed an executive order in Jan. 2017, just days after his inauguration, banning entry for 90 days by citizens from Iraq, Syria, Iran, Libya, Somalia, Sudan and Yemen. Very quickly afterwards, protests erupted at airports across the country calling out Trump's ban as unconstitutional. Federal judges quickly blocked the ban, and in turn Trump released a revised version. For several months different versions of Trump's ban were released and blocked and eventually went all the way up the Supreme Court, which ruled in favor of the administration on June 26.
Even though the SCOTUS ultimately deemed that the ban does not display discrimination against any one particular religion, two dissents written by justices that oppose the ban argue otherwise. Justice Stephen Breyer was joined by Justice Elena Kagan in one dissent, which stated that the motivation behind this ban was fueled by anti-religion bias, as evidenced in a now-deleted Trump campaign website page which called for "a total and complete shutdown of Muslims entering the United States." Justice Breyer said in his dissent that one could "find the evidence of antireligious bias, including statements on a website taken down only after the President issued the two executive orders preceding the Proclamation."
The second dissent was written by Justice Sonia Sotomayor, joined by Justice Ruth Bader Ginsburg, which more or less slammed the ban for obvious anti-Muslim bias. It stated, "unrebutted evidence actually shows is that a reasonable observer would conclude, quite easily, that the primary purpose and function of the proclamation is to disfavor Islam by banning Muslims from entering our country." Justice Sotomayor's closing phrase, "I dissent," also inspired its own hashtag as her words against the ban started trending on Twitter as well.
Just because this ban was approved today doesn't mean that things can't change in the future — and these tweets are a reminder that hope still exists, as long as there are people willing to fight the good fight.