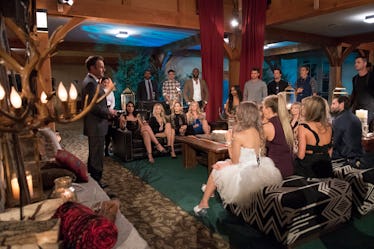 'The Bachelor Winter Games' Had A Kissing Competition & It Will Make You Cringe
ABC
Imagine having to kiss your new foreign fling with one of your exes judging your moves. Such was the case when Episode 3 of Bachelor Winter Games brought in former franchise leads Arie Luyendyk Jr., Rachel Lindsay, and JoJo Fletcher to judge coupled contestants' kissing and decide who was worthy of staying in the game based on their chemistry. Needless to say, the concept was quite awkward, and tweets about The Bachelor Winter Games kissing competition are equally cringeworthy.
Judging on kissing technique, body language, and chemistry, the presence of Arie, Rachel, and JoJo definitely made some of their former love interests uncomfortable. Dean and Josiah awkwardly laughed with each other when Rachel was introduced, while Luke seemed to internally panic when his ex JoJo entered. Bibiana likely made any fans of Peter Kraus giggle when she greeted Arie with, "That's my Bachelor."
While Clare and Christian had yet to kiss before the contest and decided to leave the entire competition as a result, Ally reacted to her impending kiss in a hugely physical way. Suffering from a nervous stomach, she ditched the contest to vomit, prompting Josiah's attempt to subtly inform a producer to check in on her.
Meanwhile, Kevin and Ashley I. practically had sex in front of everyone during their kiss, while Dean and Lesley hammed things up with a dance routine. Needless to say, no one emerged from this challenge completely unscathed.
Despite the initial awkwardness, the kissing challenge did allow for some sweet moments. Foreign couple Courtney and Lily are clearly the best people in this group and don't need on-camera drama to prove the chemistry between them. Josiah and Ally even shot down their doubtful haters by kissing each other after Ally puked.
For me, the true ick factor came into play when JoJo, Rachel, and Arie discussed the strength of these kisses from this bunch of their exes and total strangers. While JoJo was very into everyone's makeout sessions and Arie was just as vanilla as he appears on The Bachelor, I took much delight in Rachel just not having it with her ex Dean and his new gal Lesley. Clearly, she does not approve of what Dean got himself into once he left her season and hit the beach on Bachelor in Paradise.
In the end, Kevin and Ashley were deemed the best kissers, followed by Luke and Stassi. Dean and Lesley were narrowly selected to stay in the competition over Josiah and Ally, a decision which sent some viewers into rage on Twitter.
Additionally, in an even sadder moment, Ally seemed to take the judges' ranking to heart, believing that this meant she and Josiah would never work as a couple. While the actual logistics of their post-show relationship would be difficult to achieve, I still don't get why the judges were so disgusted about the sweet gesture of a post-puking kiss. Where was Nick Viall when you need him?
However, the Twitter highlight of reactions to the kissing was definitely any reference to Bachelor in Paradise couple Evan Bass and Carly Waddell. The now-married pair initially amused audiences for sharing bad kisses when they first met on Paradise, and they even kissed when Evan was nauseous during a medical scare. Seeing as the couple just had their first child together, it's safe to say that a bad kiss doesn't necessarily signal the failure of a relationship.
Look at that baby's lips! See, bad kisses can lead to some adorably perfect things!
The Bachelor Winter Games concludes on Thursday, Feb. 22, in a finale episode beginning at 8 p.m. ET on ABC.