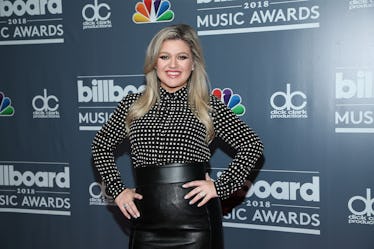 Fans Took Over Twitter During The Billboard Music Awards & Their Reactions Are Everything
Phillip Faraone/Getty Images Entertainment/Getty Images
The Billboard Music Awards are coming to you live from Vegas on May 20, 2017, and man oh man, what a night! Kelly Clarkson took on hosting duties inside the MGM Grand Garden Arena, and she's also one of the night's many incredible performers. But judging from the tweets about the 2018 Billboard Music Awards, the "Miss Independent" singer's big medly wasn't the only memorable performance of the night. John Legend, Dua Lipa, Normani, and Ariana Grande all crushed it! And I'm sure Ed Sheeran, Jennifer Lopez, and Janet Jackson — who's receiving the night's coveted Icon Award — will too. There's also a seriously star-studded list of presenters in the house: This is Us's Justin Hartley is there, and so was his co-star Chrissy Metz. Ditto for Andy Cohen, Grace VanDerWaal, Hailey Baldwin, and Jenna Dewan.
Fans definitely had a lot to say about Dewan showing up solo following her split with Channing Tatum, and about whether or not she'll hit the stage to dance with Janet Jackeson, but it's the on-stage collabs by Christina Aguilera and Demi Lovato, Macklemore and Kesha, Shawn Mendes and Khalid, and Camila Cabello and Pharell Williams that really have Twitter blowing up.
Aguilera and Lovato performed "Fall in Line" live for the very first time. "To anyone who's ever felt silenced and repressed, the truth seekers and bold thinkers… may you liberate your voice and break the mold, never back down, and never fall in line," Aguilera tweeted prior to the performance. What a queen! I love that these two powerful women are using their platforms to tackle serious topics, so I'm not really surprised that many tweeters were most excited for their moving performance.
Shawn Mendes and Khalid are teaming up up for the first TV performance of their song "Youth," a single that came about after the 2017 terrorist attack on London Bridge.
"I remember I woke up in the morning and the whole thought of my youth trying to be taken away from me was overwhelming," Mendes told Apple Music Beats 1. "Not youth as in my age — youth as in my love, my happiness, my joy, my purity. It's not even about age; you could be 50 and your youth is there. It's in you. And all of these horrible things happening in the world, all of the headlines, it felt like every day it was just being pulled more and more out of us. I was like, 'This is what we have to write about.' And It was awesome. I'm really, really proud of the song."
It looks like his fans were equally proud of his performance.
Their performance tied in with Kelly Clarkson's show-opening speech where she addressed gun violence, stating: ""Before we start tonight's show I'd like to — this is going to be so hard," Clarkson began, tearing up. "Again we are grieving for kids who just died for no reason at all. ... They wanted me to do a moment of silence. I'm so sick of moment of silence, it's not working, like obviously. Why don't we do a moment of action? Why don't we do a moment of change? ... I have four children — I cannot imagine getting that knock on the door."
And, of course, Twitter rallied behind her:
Camila Cabello and Pharell Williams rocked the house with the world TV premiere of "Sangria Wine." Cabello — who had been teasing the collab on social media — sang in both English and Spanish. The pair took to Twitter on May 1 to share a Polaroids of each other with the hashtag "#sangriawine."
Finally, to the delight of graduating teens everywhere, Macklemore and Ke$ha took the stage to perform their nostalgic track "Good Old Days." The performance took place just down the Las Vegas Strip from the MGM Grand Garden Arena at the Toshiba Plaza outside T-Mobile Arena.
The 2018 BBMAs were broadcast live on May 20 on NBC.