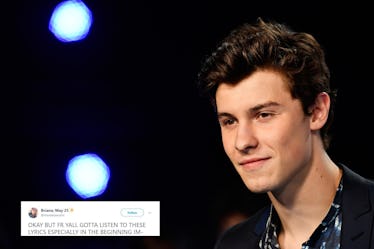 Shawn Mendes Fans Are Losing It Over His New Song "Youth" & So Am I
Getty Images/Twitter
Shawn Mendes released a brand new single on Thursday, May 3, and fans are eating it up! The song, which is called "Youth," is an ode to staying true to who you are in spite of all the negativity in the world around you. "Youth" is a collaboration with singer-songwriter Khalid and is also one of the singles off of Mendes' highly anticipated third album, which is due out later this year. Fans are truly going wild over the new material, and tweets about Shawn Mendes' "Youth" are literally taking over people's timelines.
As a singer-songwriter himself, Mendes was looking for a good opportunity to collaborate with his good friend Khalid and it seems he's finally found one! In an exclusive interview with Zane Lowe for Apple Music's Beats 1, Mendes explained his relationship with Khalid:
I've known Khalid for about maybe a little over a year now. We just immediately hit it off. It's just a really, really awesome friendship — like, talking all the time. When things first really started happening for him, we were always like, 'We've gotta get together! We've gotta make music!'
That drive to make music together finally came to fruition after the 2017 terrorist attack on London Bridge. Shaken by the attack, Mendes immediately felt compelled to contact Khalid and get the collaboration started:
There was the attack on the bridge, and I remember that day thinking, like, 'OK, I gotta text Khalid. When I texted him, I said, 'When we get together, we have to make a statement. We have to move. We have to write about what's going on in life and how the youth is feeling because I think we have the voice to do that.' We got together that day and I was like, 'This is a huge task.' Because you're always terrified going into a session knowing like, 'OK, this is going to be a big session. I have one day. Is it going to be the greatest song or not?
Mendes was obviously very moved by what happened in London, as well as the state of the world at the time. And it's clear that he's determined to make a statement and to give voice to those less heard, which is awesome.
In his interview with Lowe, Mendes also detailed how he came to write "Youth" after the horrific events of the 2017 London attack:
I remember I woke up in the morning and the whole thought of my youth trying to be taken away from me was overwhelming. Not youth as in my age — youth as in my love, my happiness, my joy, my purity. It's not even about age; you could be 50 and your youth is there. It's in you. And all of these horrible things happening in the world, all of the headlines, it felt like every day it was just being pulled more and more out of us. I was like, 'This is what we have to write about.' And It was awesome. I'm really, really proud of the song.
Mendes' fans are also really proud of the song and they're doing nothing but showing their love on social media:
Clearly, these fans have taken the song to heart. It seems like "Youth" really means something to them and speaks to their state of mind at the moment, which is really inspiring to see.
Mendes' third album is due out in late May 2018. The self-titled effort will include "Youth," as well the previously released lead single "In My Blood."
Mendes is making some great career choices. Can't wait to see what he does next!