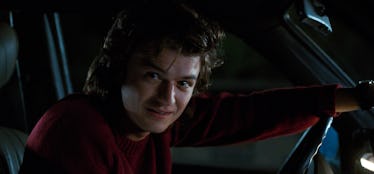 Tweets About Steve & Dustin That Prove They're The Stars Of Season 2
Netflix
*WARNING: This post contains spoilers for Stranger Things Season 2.* If you're like me, then you've already flown through the second season of Stranger Things on Netflix and now you don't know what to do with yourself except read things about it online. If you're even more like me, then you think the best part of Season 2 is Steve and Dustin's friendship. Steve steps up big time this season to help the kids battle the new monsters, but, of all the new relationships to come out of Stranger Things 2, Steve and Dustin's friendship is, by far, the best and most wholesome, reminding us all that not everything is terrible in Hawkins.
Let's be honest, separately, Steve and Dustin have a pretty rough season; together, though, they're a gosh damn dream team. From fighting demodogs to trading beauty tips, to getting Dustin ready for the Snow Ball, these two form an unshakeable bond that melts my fragile little heart. At one point Steve even says to Nancy, "turns out I'm actually a pretty damn good babysitter." You're not wrong, Steve, you're not wrong.
It's obvious Steve becomes the older brother Dustin never had and I'm 100 percent here for it. Naturally, Stranger Things diehards are here for this new bromantic friendship, as well, and have taken to Twitter to express their love for the new dynamic duo.
Nancy and Jonathan who? Eleven and Mike what? Steve and Dustin is clearly who we want to see more of!
Earlier this year at a Netflix press event, Joe Keery, the actor who plays Steve Harrington, said he wasn't sure about how his character's relationship with Dustin would work in the scheme of things, but he acknowledged that Dustin and Steve were "two characters that both kind of needed somebody."
Ultimately, he praised the Duffer brothers for finding a way to organically bring these two seemingly different characters together by saying,
I think that's something kind of in the line of what Steve needed ... I think he needed [Dustin] this year to kind of grow up, he's sort of learned this new lesson that he wouldn't have been able to learn without [him].
He may have had a rough go of it this season, but he definitely seems to have matured; I, for one, can't wait to see what's in store for Steve in Stranger Things 3.
Keery spoke more at the Netflix event on what it is like to work so closely with Gaten Matarazzo (the actor who plays Dustin) and the rest of the younger cast on Stranger Things 2, as well. The actor said,
[Gaten is] 10 years younger than me, but I feel like he was teaching me so much stuff. Working with the kids was crazy because it's like one second we will be in the scene, the next second they'll be joking and punching each other, pants each other, yelling profanities at each other, then it's 'action' and they'll all go [gasp!] at the same time. They can just switch it on and switch it off and they don't take it so seriously.
Hard to believe considering how impressive their performances are. Keery continued by saying,
Sometimes you get kind of caught up in the fact that you have to memorize these lines and do this stuff, but at the end of the day, they really have a fun time of it, so that was a really nice presence to have.
When all is said and done, I'd like more of this next season, please. Until then, I'll be over here using Farrah Fawcett product in my hair and bingeing Season 2.
Check out the entire Gen Why series and other videos on Facebook and the Bustle app across Apple TV, Roku, and Amazon Fire TV.