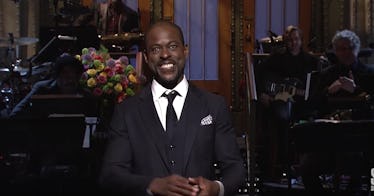 Fans Are Praising This 'This Is Us' Star's 'SNL' Hosting Gig & You Have To See It
If you're already thinking about how bummed you'll be once the This Is Us season finale airs on Tuesday, March 13, then you'll be happy to know that NBC has provided you with a little extra Sterling K. Brown (who plays Randall Pearson on the show) this week. Brown hosted Saturday Night Live on Saturday, March 10 (which he called "a dream come true" in his monologue), and now you can enjoy your extra dose of Brown this week when you watch his SNL episode that's already a fan favorite. These tweets about Sterling K. Brown hosting SNL prove that people totally loved it.
It's not too shocking that people really enjoyed Brown's hosting gig since he captures the hearts of millions of people weekly on This Is Us. While the drama that's known for being a tearjerker does have its fair share of lighthearted moments, it appears viewers were very excited to see Brown flex his comedy muscle full-time during his SNL hosting stint. The love for Brown's performance came in as soon as the episode began.
Brown came out to deliver his monologue, and he dove right into the comedy as he told the audience he would try to not get choked up, as so often happens on This Is Us. He cried (as it was scripted) as he talked about how much this opportunity to host SNL means to him, and the show was off to a very funny start.
The monologue was immediately met with a positive review.
"Sterling is crushing his monologue!"
The show kept moving on, and Brown was making people laugh in pretty much every sketch. After the monologue, Brown played Common in a Family Feud: Oscars Edition sketch, and he hilariously captured how the rapper and poet tends to speak in symbolic rhymes.
If wasn't clear before this sketch that people were very much here for Brown hosting SNL, they continued to show the love on Twitter.
"30 minutes in and Sterling K Brown is giving one of the better episodes this season."
"Sterling K. Brown is killing SNL ... I love him!"
Another sketch included Brown playing a man who is very passionate about his belief that Shrek is the greatest animated movie ever, and he brought the laughs as he strongly defended his position after his girlfriend's mother praised the Oscar-winning movie, Coco.
"So it's official: Sterling K. Brown can do everything, and also how do we get him on every TV show?"
One of the more bizarre (but still hilarious) sketches of the night featured a dying Nickelback super-fan who kept whispering Nickelback lyrics as her last words to Brown's character (as you do). Brown fully committed to the Nickelback love, and it paid off with lots of laughs for the viewers.
"Sterling K. Brown singing 'How You Remind Me' by Nickelback has gotta be one of best things I've seen in a while."
People didn't want the episode to end — especially with Daylight Savings Time right around the corner.
"Why does Sterling K. Brown have to host SNL the night before the morning we lose an hour of sleep..."
Even with a night of sleep that was about to be cut short, people were glad to have seen Brown's very funny SNL episode. Some people even posited that he has the potential to be one of the show's "greatest hosts."
"Honestly, Sterling K. Brown may turn into one of SNL's greatest hosts."
"The man just brings it. Every single time! Sterling K. Brown - you can do no wrong."
"Sterling K. Brown was outstanding. He was hilarious."
From most of the reviews on Twitter, it sounds like Brown crushed his SNL debut. And honestly, if you check out even one sketch from the episode, I'm sure you'll agree.
Brown is probably used to good reviews by now seeing as though he's on a hit television show for which he won a Golden Globe award in January. Brown took home the award for Best Performance by an Actor In A Television Series - Drama, and his fans were thrilled for him when he won it.
There was definitely a lot of love for the actor on Saturday night, and I think it's safe to say that fans would give him the award for "Best SNL Host" if that were a real thing. But hey, after Brown's stellar hosting gig, they might just make one for him anyway.