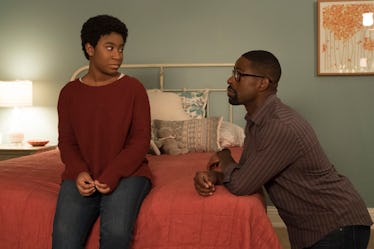 Beth From 'This Is Us' Revealed Season 2 Finale Details & You Should Start Preparing
NBC
The penultimate episode of This Is Us surprised many by leaving the story of Deja on a major cliffhanger. Instead of settling things, so that everyone could focus on Kate and Toby's wedding, the show instead ended with Shauna about to run out of the Pearson's house, without even saying goodbye to her daughter. Her despair was understandable. The sight of Deja suddenly able to have a childhood — and the understanding this was what she'd never given her child — it hurt. But leaving without even saying goodbye? The This Is Us Season 2 finale spoilers make it sound like that's exactly what's going to happen.
Entertainment Weekly spoke to Susan Kelechi Watson, who plays Beth Pearson, and according to her, the Pearson's good deed of taking Shauna and Deja in when they found them homeless sleeping in a car will be punished. Deja will not react well to discovering her mother just left, and no one stopped her.
It makes it much harder for them. Because once we were like the allies. We can become the enemy. Because first of all, we saw when she left, we let her leave. That's one way to look at it. We're the bearers now of the awful news, so any anger that she has is going to displaced on us. You don't know how to handle that. And what were our motives behind that? You just start to question everything.
From the moment it was clear Deja and Shauna would be taken home by the Pearsons, the real question was how badly this would play to those in charge in the foster care office. The Pearsons aren't supposed to have contact with Deja once she leaves. They were merely temporary housing. Beth was behaving the way the system tells them they should, even though human hearts don't work that way.
But what does bureaucracy care for human hearts? There are rules, and the Pearson family may have seriously screwed up by not following them. Yes, they found Deja and Shauna asleep in the car, but the system says that Linda would have found that out in a few days (weeks?) the next time she did a home visit, and then had Deja replaced in a new situation.
Watson says fans should expect repercussions.
I'm sure we weren't supposed to do that. I am so positive because if anything dangerous, if anything happens between Shauna and myself — there's been tension and all this kind of stuff — but again, when you're deciding to act with your heart, it's not about making sense. It's just, 'Let's do what feels right in the moment. Let's work out of compassion. Let's work out of sympathy, empathy. Let's work from that place.' And who knows what they plan to tell Linda?
For those who are hoping this just leaves a path for easy adoption, Watson says it's not that simple:
Now it going to become even more about Deja. What are we going to do for her? How are we going to not just help her with a place to live but emotionally get through this place where her mom now wants to relinquish her parental rights?
All this adds up to an episode where nothing will be easy, and even on a day of wedding joy, there are going to be complications.
This ish hits the fan next week. Yeah. You're going to see how Deja responds to all of this and what we're in for here.
Will there be a resolution before the end of the season? For that Watson says, we'll have to watch the episode. The This Is Us finale airs this coming Tuesday, March 13, 2018 at 9 p.m. ET on NBC.