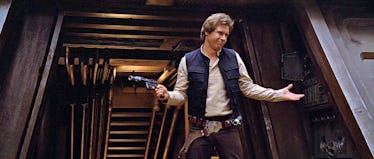 The New Han Solo 'Star Wars' Movie Finally Has A Title & It's Totally Obvious
Lucasfilm
It's been a long, rocky road for Star Wars' second stab at a stand alone anthology film. But as of this week, replacement director Ron Howard announced that principle photography on the Somehow Yet Still Untitled Stand Alone Han Solo Joint had wrapped. But that wasn't all he announced. With an extra pointed jab at Star Wars' fear of spoiler culture, he also revealed the title of the film: Solo: A Star Wars Story. The internet freaked out accordingly. The tweets about Solo: A Star Wars Story came thick and fast after Howard's own tweet revealing the news.
It's a stunningly simple title, considering the convoluted path the series to took to get to completion, including nearly 10 months of filming, five under one set of directors (the originally-hired Lord and Miller) and five more under the other (Ron Howard.) The continuing lack of title seemed a talisman of all the film's production problems, especially with Disney's refusal to delay the film's release from May of 2018 to December. (Unlike Episode IX, whose much lesser issues got the delay almost immediately.)
Perhaps the landing on such a simple, and shockingly obvious title answer is a symbol of how much more streamlined and easy things will be from now until next May? For everyone's sake, let us hope so.
By the way, can I just point out how much I love Ron Howard's obvious irritation and disgust as the "veil of secrecy" that Disney and Lucasfilm are putting over these movies? No, his on set photos weren't exactly spoilers. In fact, I would put money on every last out of them being outtakes or shots of sets without any actors working on them. But his continuing to thumb his nose at their conventions, down to the annoyed sounding, "Can we even *say* the title?" is giving me life.
Not everyone was so pleased by the announcement however. One of the best of the anti-responses even used the ever popular "Ron Howard Narrating" meme.
As some pointed out, Han Solo might have the name, but he's not actually going at this adventure, well, "solo."
Some thought this was a great title... for a different project.
Someone tell Bruce Springsteen he might have competition in the One Man Broadway show category this year....
Some wanted the title to be more complicated.
Personally, I was partial to OMG Why Is This Movie Still Called The As Yet Untitled Han Solo Joint myself.
Others think the original Han Solo, Harrison Ford, would not be impressed.
Others noted this was a great marketing opportunity for another company that had nothing to do with Star Wars.
In fact, I would say this is the best marketing opportunity for Solo Cup since Toby Keith's country song... or maybe Anna Kendrick's musical number in the original Pitch Perfect.
(Perhaps if Solo: A Star Wars Story co-star Emilia Clarke has some downtime on the Game of Thrones set, she could record herself doing the Red Solo cup musical number in support of her new film?)
But I think the haters can be summed up with the following response, that speaks for everyone that doesn't like the title.
While some obsessed on the movie's title, others are still concerned about the upcoming plot of these "Young Han Solo Adventures."
Some wanted them to go even younger in their audience aim.
And then of course, there's the age-old internet rule that anyone standing in a photo holding a sign will be photoshopped.
Ron Howard is *trying,* y'all.
But after a few hours came acceptance.
I think that's not a PG-13 movie.
Some fans even found a positive message in the new film's title.
Wow, I bet Disney wishes they'd thought of that.
*whispers back* It's ok, so do we.