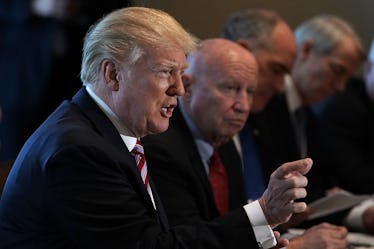 Donald Trump Wants To Make Food Stamps Like Blue Apron & Twitter Isn't Having It
Alex Wong/Getty Images News/Getty Images
Another day, another boatload of President Trump criticism. The Trump administration recently proposed a new plan to replace food stamps, officially known as SNAP benefits, and there's been an immense amount of backlash going on ever since. Social media users have started logging on to share their thoughts on the proposal and their tweets about SNAP and Blue Apron show just how much they aren't feeling President Trump's food assistance plan.
On Monday, Feb. 12, Trump's budget proposal for the Supplemental Nutrition Assistance Program (SNAP) was released, detailing plans to replace part of monthly cash benefits for the majority of recipients with a food box from the Department of Agriculture, according to the Los Angeles Times. The box would reportedly include "shelf-stable milk, ready-to-eat cereals, pasta, peanut butter, beans and canned fruit, vegetables, and meat, poultry or fish."
The proposal would reflect a "Blue Apron-type program," according to Mick Mulvaney, Office of Management and Budget director. In a briefing on Monday, he said,
What we do is propose that for folks who are on food stamps, part — not all, part — of their benefits come in the actual sort of, and I don't want to steal somebody's copyright, but a Blue Apron-type program where you actually receive the food instead of receive the cash. It lowers the cost to us because we can buy [at wholesale prices] whereas they have to buy it at retail. It also makes sure they're getting nutritious food. So we're pretty excited about that.
The proposal plans on cutting $17 billion in 2019 and over $213 billion over the next decade, while simultaneously limiting the items a SNAP recipient can purchase. However, the rest of the details are pretty scant.
There are some pretty major differences between the plan and Blue Apron, though.
Unlike Blue Apron (a meal kit service), the Trump administration's proposed food box would only be canned goods — aka nothing like Blue Apron, whose shipments usually include fresh produce, meat and fish, according to The Washington Post. Also, what Mulvaney failed to announce is that to provide the good stuff — like fresh meat and produce, Blue Apron is actually expensive AF. It's all just really ironic considering the rate to feed one person through SNAP is around $2.06 per meal, while Blue Apron's cost ranges from $9 to $12 per meal.
Some politicians have denounced the proposal. Rep. Jim McGovern (D-MA) tweeted it would affect rural families, forcing them to drive long distances to get their food supply.
Rep. Alma Adams (D-NC) said the move was "expensive & unrealistic," and shared a tweet that detailed a list of her criticisms of the proposal.
And on social media, people raised questions about a whole bunch of problems.
Online, people expressed their concerns about things like their dependence on specific items due to their health issues, how much SNAP differs from Blue Apron, what the proposal would mean for their families, and so much more.
Some people said they depended on the flexibility of SNAP for health reasons.
Others noted that Blue Apron is nothing like SNAP.
Some feared for what the proposal would mean for their families, if implemented.
While others seemed to think the proposal was a ploy to harm affected communities.
A few questioned the quality of the food boxes.
And some basically called the move hypocritical in comparison to the backlash Michelle Obama faced when pushing her own food plan, in which the former first lady aimed to reduce childhood obesity by encouraging exercise and healthy food choices.
Anti-hunger advocates also fear the ways the proposal could affect 16.4 million households. Kathy Fisher, the policy director of Philadelphia's Coalition Against Hunger said the box was "very expensive and very complicated." She told The Washington Post,
It boggles the mind how that would play out. We know SNAP works now, when people can choose what they need. How they would distribute foods to people with specialized diets, or [to people in] rural areas … It's very expensive and very complicated.
There's a lot to tackle with Trump's proposed plan, but since its future is still pretty uncertain, it looks like we'll just have to wait this thing out and see what happens.