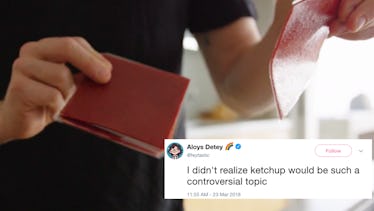 "Sliced Ketchup" Is A Thing & Twitter Has A Lot Of Opinions About It
I've been eating ketchup on my food for as long as I can remember. Even though it might drip off my burger and wind up on my clothes from time to time, I've never really been too bothered by a ketchup stain. It turns out that I might not have to worry about a ketchup spill ever again because one company has created "sliced ketchup." Yes, you read that right, and these tweets about sliced ketchup might leave you confused about how to feel.
This new version of the classic condiment is called "Slice of Sauce" from Bo's Fine Foods, and you have food entrepreneur Emily Williams to thank for this new creation, according to TIME. OK, depending on your feelings about sliced ketchup, "thank" might not be the first word that comes to mind. Honestly, the first thing I thought when I heard about sliced ketchup was, "Why???" Before you (and I) get to judging, though, you should probably know what it's all about.
According to the Kickstarter page, Slice of Sauce comes in packages of eight slices of ketchup. The sliced ketchup itself is a "Signature Ketchup Recipe" that was created accidentally when BBQ sauce ingredients dried up into a "slice." Basically, Slice of Sauce boasts that you can get all the ketchup flavor without the mess. It appears that some people have faith in this newfangled sliced ketchup, because the Kickstarter page is almost $400 over their original $15,000 goal.
That sounds like a good upgrade to ketchup in theory, but I'm still a little skeptical about the end result. The reaction on Twitter was a whole lot more than "a little skeptical." It appears that many people are simply not here for any talk of sliced ketchup.
"I like condiments, but that looks like the worst thing ever."
"It's a no from me."
"No and no."
"If someone I know is using this new product, I will disown them in public."
"This is a hard, hard no for me. Not happening ... I even liked the green and blue ketchup from Heinz years back."
Some people couldn't help but think that the fruit-leather like appearance of the sliced ketchup was just too much for them. It reminded people a lot of a classic lunchbox treat.
"No Fruit Roll-Ups ketchup for me thanks."
"The world's worst Fruit Roll-Ups."
The dried leather-like consistency brought less favorable comparisons as well.
"...That slice reminding me of that dried up ketchup that's left on the side of the bottle cap."
"An entire slice of that gunk that dries around the opening of the ketchup bottle? Hard. Pass."
The hard stances taken over sliced ketchup were slightly surprising.
"I didn't realize ketchup would be such a controversial topic."
While there was plenty of shade thrown Slice of Sauce's way, a couple of people were actually willing to give sliced ketchup a chance. One person seemed really excited about the idea of sliced ketchup.
"I am so ready for a ketchup slice on my bacon & egg burger, my mouth watering at the prospect."
This Twitter user could see the possible merits of sliced ketchup, but they weren't ready to fully give up the classic squeezable condiment.
"Ketchup slices might work on a hamburger - even if you wanted that much ketchup - but they can't replace ketchup."
While the initial reaction to the ketchup slices is mostly a hard pass, it's good to know that Slice of Sauce also claims that it is a healthier version of ketchup as well. According to Bo's Finer Food Slice of Sauce Kickstarter page, Slice of Sauce has "a clean label." The page also shared, "Our ingredients are non-GMO, gluten-free, all-natural with no artificial flavors, preservatives, or high-fructose corn syrup."
Maybe you'll decide to try sliced ketchup on you next burger. Maybe you won't. From the early thoughts on Twitter about the stuff (although I don't believe anyone actually tried the sliced ketchup yet), you might want to have a backup bottle of the tried-and-true squeezable ketchup — just in case.