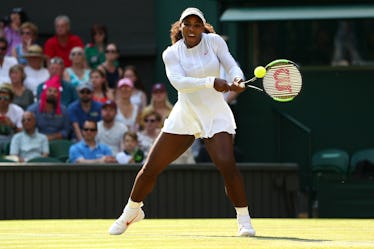 Twitter Rallied Around Serena Willams Missing Her Daughter's First Steps & It's So Sweet
Matthew Stockman/Getty Images Sport/Getty Images
Serena Williams is one of the best tennis players in the world. The superstar recently returned to the tennis court after she gave birth to her daughter Alexis Olympia Ohanian Jr. in September 2017. Williams is currently competing in the Wimbledon tournament, and she is in the U.K. with her husband Alexis Ohanian and their now 10-month-old daughter. On Saturday, July 7, Williams was training, and she shared on Twitter that she missed Alexis Olympia's first steps while she was practicing. Williams said that she cried because of it, and Twitter immediately rallied around the athlete. These tweets about Serena Williams missing her daughter's first steps are so supportive.
I'm sure that plenty of time practicing on the court is what has made Williams into the powerhouse that she is today, but she was, naturally, upset that her time on the court took away from experiencing a special moment with her daughter. Of course you can't plan the exact time when your child will reach certain milestones, and every working parent has to deal with the possibility that they might miss out on some of the "firsts" in their kids' lives. Knowing that doesn't make hearing about —instead of seeing firsthand — your daughter's first steps any easier.
Thankfully, it seems like Alexis Olympia totally understands that her mom's job requires her to be on the tennis court a lot, according to the photo shared on the 10-month-old's official Instagram account.
I'm sure that adorable photos like that one help Williams get through the sadness of missing Alexis Olympia's first steps, but she also has plenty of kind words to help her get by, too. In an effort to prove that the internet can sometimes be an awesome place, fellow parents swooped in with words of encouragement for Williams on Twitter.
One person reminded Williams that there will be plenty of opportunities for the tennis star to share magical moments with her daughter.
Williams was also reminded that she's already shared a very uniquely special moment with Alexis Olympia. In January 2017, Williams won the Australian Open while she was eight weeks pregnant with her daughter, per Newsweek. I'm pretty sure that's the textbook definition of "girl power."
Other moms shared stories of solidarity with Williams, and they reminded her that Alexis Olympia isn't going to mind that Williams missed her first "official" steps. Instead, Williams' daughter will be so proud of her mom and her hard work, like her 23 Grand Slam titles.
Another working mom assured Williams that she is still setting a good example for her daughter, even if she might miss a few moments with her along the way.
It turns out that missing your child's first steps isn't all that uncommon among working parents, so Williams is in good company. People were quick to remind her that, "It all turns out okay."
Someone made sure to point out that even though Williams missed the exact moment her daughter walked, it doesn't mean that she didn't help contribute to making that happen.
And then there were responses that reminded Williams that the first time she sees Alexis Olympia walk will be the first time for the mother and daughter to share that exciting moment together. Aww, that's so true, and I bet Williams can't wait to have that moment.
The consensus seems to be that even if you miss your child's first steps, it won't matter at all in the long run.
Plus, there are so many special "moments to come" for the tennis superstar and her daughter.
Someone even took the liberty to fast-forward a bit and posit what Alexis Olympia's future might look like thanks to growing up with a hard-working mom like Williams.
Even at two months shy of a year old, Alexis Olypmia looks ready to hit the tennis court.
People couldn't get enough of the positive vibes sent in Williams' direction.
Proving that she is the ultimate mom and role model, Williams won her Wimbledon match against France's Kristina Mladenovic on Friday, July 6, the day before missing her daughter's first steps, per E! Online. With that win, Williams moves on to the fourth round of the tournament.
The tennis superstar only returned to the tennis court this past December, and she won the French Open in May 2018, which marked her first major championship win since giving birth in September. With Williams heating up on the court and Alexis Olympia hitting her own stride, this mother-daughter pair is ready to capture all of the special moments that wait for them. First up, Alexis Olympia will cheer on her mom as she plays in the fourth round of Wimbledon on Monday, July 9. Good luck, Serena!