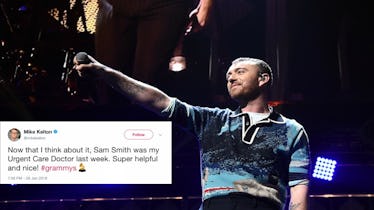 Fans Are Roasting Sam Smith Over The Outfit He Wore For His Grammys Performance
Theo Wargo/Getty Images Entertainment/Getty Images
The Grammys are all about music and people who make a living performing... performing live! Because of that, fans get to have a little break from all the card-holding and talking of award shows and sing along to performances by some of today's hottest performers. The 2018 Grammys boasted lots of great talent including Lady Gaga and Kendrick Lamar, but these tweets about Sam Smith's Grammys performance outfit stole the whole damn show.
Smith performed "Pray" off his newest album, The Thrill Of It All. This wasn't the first time Smith performed at the Grammys. Smith took the stage at the 2015 Grammys with an incredibly emotional performance of "Stay with Me" with Mary J. Blige. The duo won the night with their soulful voices and heartfelt performance.
Smith is no newbie to performing. His soulful voice could sing me the phonebook and I wouldn't mind. At the 2018 Grammys, Smith sounded just as good as he always does, but everyone was a little too distracted by his odd choice of getup to even notice the singing. Smith might have been going for something white and angelic, but his long white coat pushed it more towards, "Which way to the lab, kind audience?"
The last time Smith performed at the Grammys, he also cleaned up awards. The singer-songwriter took home four Grammys that night, including Best New Artist, Best Pop Vocal Album for In the Lonely Hour, and Record of the Year and Song of the Year for his hit single "Stay with Me." Smith also has an Academy Award for Best Original Song under his belt from the "Writing's on the Wall," which was written for the 2015 James Bond film, Spectre.
In November of last year, Smith released his latest album, The Thrill Of It All, but because of its release date, it just missed the cutoff for this year's Grammy nominations. It's not that the album wasn't well received — unfortunately for Smith, the Grammys' time frame of eligibility is set from Oct 1. two years prior to the awards ceremony, up until the Sept. 30 preceding the date of the awards. The Thrill Of It All was released on Nov. 3, 2017.
Though The Thrill Of It All was not eligible for a nomination, Smith's song "Too Good at Goodbyes" was released on Sep. 8 and therefore eligible, but didn't receive any nominations. But that's okay, because there's still next year's awards. Plus, his live performance!
When the Thrill Of It All dropped, fans had a lot of fun guessing whether or not it was about Smith's newly-confirmed boyfriend, 13 Reasons Why actor Brandon Flynn.
Back in October 2017, Smith went on Ellen Degeneres and said,
It's weird bringing out an album and not being single, 'cause when I brought [my debut album] In the Lonely Hour I was so lonely. But now I'm singing songs about another guy, and I'm quite happy, so it's quite weird.
Smith told Ellen, though, that only "four or five songs on the album are about this guy and the rest of the songs are about other people."
Smith took a little break from the music scene after all his success with In the Lonely Hour. He decided that he needed some time to be at home and live a normal life for a little, E! Online reported back in February 2016. Smith said,
I'm trying to live as well a little bit, and I think next month I'm going to force myself to just stay at home and see my mum and dad and my sisters. Because I feel like I've missed out on their lives a bit the last few years, so that's my plan.
After nearly two years off with zero music, Smith returned with an Instagram post thanking his fans for their patience. He said,
Thank you for being so patient and for letting me have the past year to really escape into my mind and write music so freely. I feel so rejuvenated and have so many stories I can't wait to tell you.
Then Smith dropped the news of his new record. "I've poured my soul and heart into this record," wrote Smith. He definitely did. The Thrill Of It All definitely shows the new experiences Smith had over his hiatus as well as what's it's like to be in love again. Hopefully next year, Smith won't just be performing at the Grammys, but snagging some more awards of his own.