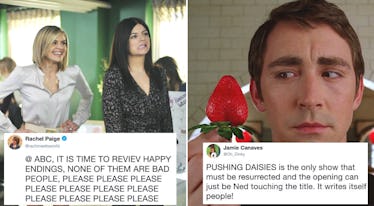 Twitter Is Full Of New Reboot Ideas For ABC To Fill 'Roseanne's Time Slot
ABC
ABC surprised a bunch of people this week by pulling the plug on its Roseanne revival. Although the reboot series was successful, ABC president Channing Dungey decided to reverse Roseanne's previously announced Season 2 renewal and cancel the series after star Roseanne Barr made the news for a racist tweet about former Obama aide Valerie Jarrett. While all of that is news in and of itself, for diehard TV fans, the real take-away from the cancellation is that ABC now has an open time slot. And you better believe Twitter has tons of TV reboot ideas to replace Roseanne on ABC.
Most TV lovers are looking at the Roseanne cancellation as an opportunity for ABC to bring back one of its over beloved, cancelled-too-soon shows. After all, the network was clearly into the idea of bringing Roseanne back; why not replace that reboot with another one? Shortly after the cancellation announcement, Twitter exploded with fans (and even some showrunners) pitching their favorite cancelled ABC series for a revival to fill the network's newly open time slot.
Here are the cancelled series that are getting the most reboot love on Twitter right now:
1. Pushing Daisies
It may have only been on the air for two seasons, but the whimsical 2007 mystery dramedy Pushing Daisies has remained a cult favorite for the past decade. Showrunner Bryan Fuller himself even offered up a revival series on a big old pie pan to ABC after the Roseanne cancellation news broke.
Since Pushing Daisies is often cited as one of the prime examples of "cancelled too soon" TV, it's no wonder why scores of fans took to Twitter to echo Bryan Fuller's desire for the show to be brought back to life, as if touched by Ned's finger.
2. Happy Endings
A show that always comes up when anyone mentions reviving a beloved series is Happy Endings, and now may be the perfect time for the cult comedy to finally get its often-rumored fourth season. Numerous fans voiced (and continue to voice) their disappointment in ABC's cancellation of Happy Endings after just three seasons in 2013 — now the network has a chance to make things right.
3. Enlisted
Although it originally aired on Fox instead of ABC, the short-lived 2014 military comedy Enlisted is another show getting a lot of reboot love online following the Roseanne cancellation. Many TV fans felt that the series was never really given a chance on Fox, which decided to air its episodes out of production order. Despite the low ratings that led to its cancellation after one season, Enlisted received widespread critical acclaim and remains a cult classic for a lot of fans.
Showrunner Kevin Biegel offered to hire the Roseanne crew to help put together a new season of Enlisted to replace Roseanne on ABC.
Following Biegel's pitch, Enlisted fans echoed the showrunner's yearning for another season of the series.
4. Selfie
Another one-season comedy that unfortunately did not make it past 2014 was ABC's Selfie, a modern-day retelling of Pygmalion/My Fair Lady. ABC axed the rom-com after 13 episodes, but it remains a fan-favorite sitcom among many fans, and stars Karen Gillan and John Cho are more popular than ever now.
5. Don't Trust the B---- in Apartment 23
Before she was Jessica Jones, Krysten Ritter was terrorizing New York City as Chloe, the snarky, manipulative, and arrogant b-word in apartment 23. The whipsmart comedy, which featured a hilariously heightened version of James Van Der Beek as himself, was unfortunately canceled by ABC after two seasons, but it has retained its fandom love for the five years it has been off-air. Maybe now would be the right time to bring the show back.
Hopefully ABC will bite and revive one of these beloved series to take Roseanne's spot. Fingers crossed that Roseanne's loss might actually be the chance that your favorite show needed to come back to life.