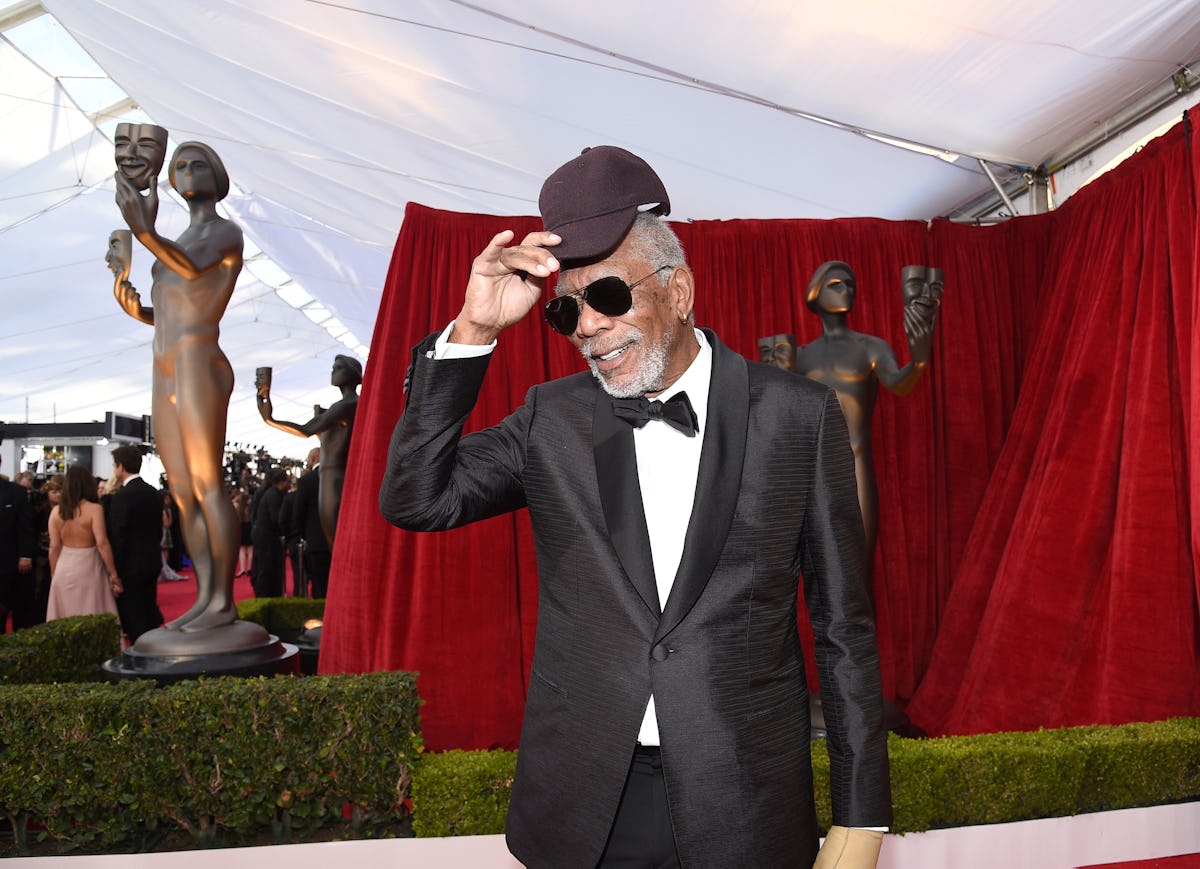 Morgan Freeman Wore A Dad Hat To The SAG Awards & Proved He's The GOAT
Kevork Djansezian/Getty Images Entertainment/Getty Images
One thing that might surprise you: Morgan Freeman has not gotten a SAG Awards Lifetime Achievement Award until tonight, Jan. 21, 2018. Although it feels like he probably deserves about two of these considering his body of work (it's been, like, six lifetimes of filmographies for the prolific actor), Rita Moreno presented Freeman with the accomplishment at the 24th Annual ceremony. But his impressive movie history and warm speech weren't the only things that got audience attention. Tweets about Morgan Freeman's hat at the SAG Awards were all the rage, proving the man can pretty much pull off any article of clothing. Freeman has still got it, guys. Forever and always.
Morgan was recognized for his long and esteemed career in the film and television industry, and it's about time. The 80-year-old has been nominated for four SAG Awards through the years, winning for Million Dollar Baby in 2005. He has nearly 120 acting credits to his name and one of the most recognizable voices in the business.
"These moments in one's life usually call for an entire litany of thank yous. I can't do that because I don't know all of your names, so I won't try," he said in his thank you speech. Of course Morgan Freeman was a total class act, but Twitter just cannot get over that hat...
Even his former Electric Company co-star Rita Moreno took notice after she gave him a warm welcome. "Morgan, Morgan! Lift up your hat!" you could hear her saying to him after he took the stage. "Lift it up! Now we can see you." She proceeded to get a round of laughs. "You have no idea I had to put up with that," Freeman responded, getting even more laughter from the audience.
In addition to his headwear drama, Morgan took the time to express some gratitude regarding the award, as well as point out something he noticed when it comes to the actual SAG Lifetime Achievement statue itself:
I wasn't gonna do this. I'm gonna tell you what's wrong with this statue. It works from the back. From the front, it's gender specific. Maybe I started something.
And the crowd went wild. In addition to Morgan's SAG Awards success, the actor has garnered five Academy Award nominations, with one win for Million Dollar Baby. He also has two Golden Globes. Freeman picked up the Cecil B. DeMille Award at the Golden Globes in 2012 — the same achievement Oprah recently made headlines for when she delivered her powerful speech.
Freeman has been acting since the mid-'60s and he got his first big break on the popular 1970s children's TV program, The Electric Company. His movie career really kicked off later — he garnered attention for Lean on Me, Glory, and Driving Miss Daisy in 1989. Since then he's appeared in dozens of notably films, including notable favorites like The Shawshank Redemption, Unforgiven, Seven, Million Dollar Baby, Bruce Almighty, and Invictus.
Morgan joins 53 other recipients of the Screen Actors Guild Life Achievement Award, including other legendary performers like Lily Tomlin, Carol Burnett, Dick Van Dyke, Mary Tyler Moore, Debbie Reynolds, and Ernest Borgnine. His longtime friend Rita Moreno picked up the award in 2014.
"Morgan is way more than just an actor, narrator, producer, humanitarian. This man is a national treasure," Moreno said in her introduction. If you ask Twitter or basically any fan of his movies, you'll definitely find that the general consensus is in agreement with that statement. Now excuse us while we go watch Last Vegas for the 900th time... Hats off (or on), Mr. Freeman. You deserve this one.