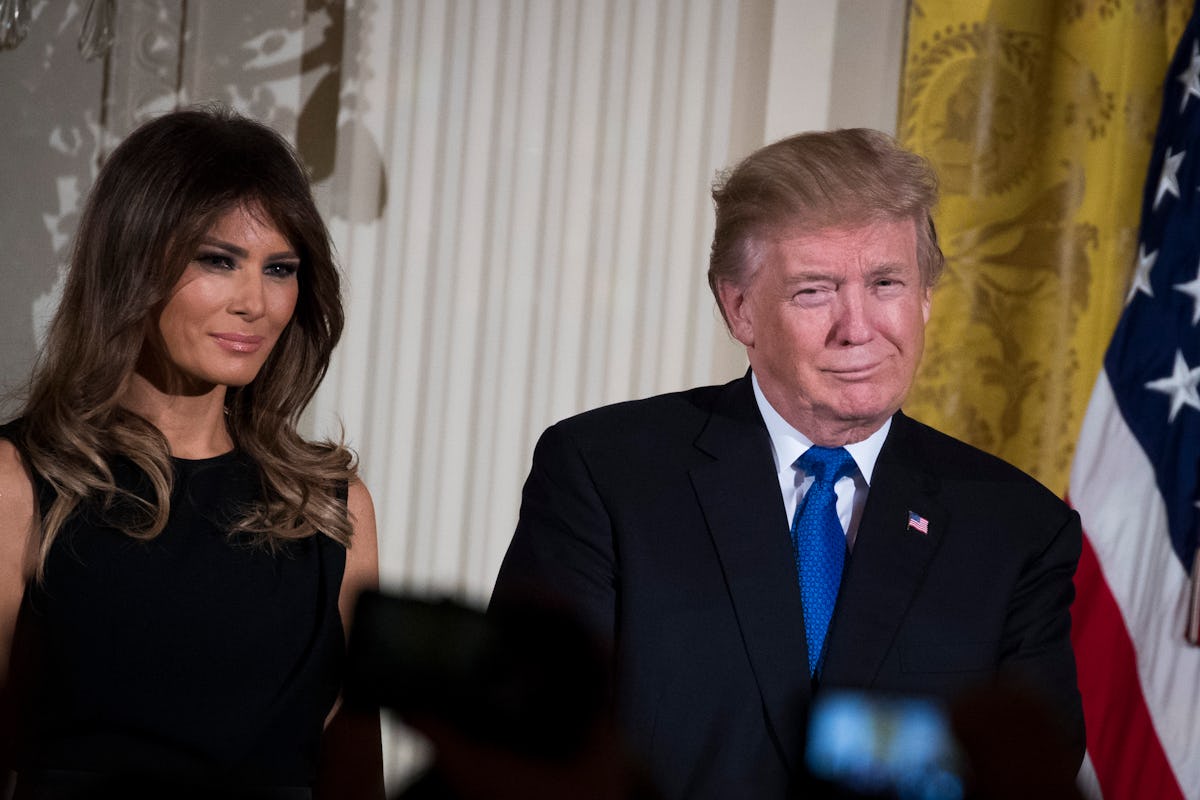 Melania Posted Pictures of Herself & Trump On Christmas & Twitter Is So Salty
Drew Angerer/Getty Images News/Getty Images
It's Christmas time across the nation, not just in the homes of those in large cities and small, but for politicians too, including our Commander in Chief and his wife. Trump has currently been president for only 337 days as of this writing, and since he is once again on vacation at Mar-a-Lago, it is his 110th day on a Trump property since taking office. (If he goes golfing again this afternoon, it will be his 85th day spent on a golf course.) But it's Melania Trump's Christmas photos that got everyone's attention on this trip, as her official accounts have been posting what are supposedly "joyful" behind the scenes images of the Trumps at Christmas.
The Trump family's continuing failure at PR for their presidency didn't start with the following photos. Even before Melania's official account started tweeting, her husband was on his own personal account, all-capsing at the general public over the use of the phrase Merry Christmas, and protesting far too much that the "Fake Media" is out to get him, or some such nonsense, and generally not allowing us long suffering citizens to have a moment's peace during the holiday. This was capped off by news reports that the Trump family's failure to get places on time ruined Midnight Mass for those attending at Palm Beach.
Then there was this photo:
At first glance this photo looks like two people, bored and trapped in a cavernous room together, wanting to be anywhere else. Then you add the caption: They're on the phone, talking to little kids, who are so young as to actually believe that there's a Santa that NORAD is tracking in the first place. Suddenly the entire thing becomes another kick in the teeth, especially when you remember the enthusiasm and joy that Obama and his wife brought to their interactions with little kids.
Twitter, as is their wont, took one look at this image and were not having it.
Much had been made of Melania and Trump's body language towards each other, even before he won the presidency.
Perhaps this photo doesn't mean to show them with their back to each other, looking as if they would rather be 100 miles away. But in terms of a photo that serves an already established negative narrative about their relationship, it doesn't help.
The extra high ceilings and the dark gold paint of the space only serve to absorb the light in the room instead of reflect it back. The resulting sensation is that the two of them are in this gloomy space that's lavish, yet intensely lonely feeling.
Other asked where Barron was, but since the idea of the image is the two of them are working the phones, having a little kid underfoot would probably not make sense.
Then there were those who imaged what was really going on:
This wasn't the only tweet used to bring up current issues with Trump and his presidency.
On the whole, doubtful. You think Putin wants to hang out in that room?
Nothing about this photo looks fun. Can you image the children at the other end of the call?
Congress has provided short term funding for CHIP over the holiday season as part of their "Keep the Government Open" package that was passed at the end of the week, but it only lasts through March.
Then there are those who want us to remember how much these trips to Trump properties are costing us.
And finally, a very good point about the PR implications of this photo:
Let's not. It's Christmas.
Perhaps as an attempt to lighten the mood after her disastrous first image, this morning, Melania posted the following pic.
The Melania posted this, which is sort of cute, but also a little on the weird and creepy side. Let's watch the progression in the top responses that followed.
One:
Two:
and Three:
Winter is here, y'all. Merry Christmas.