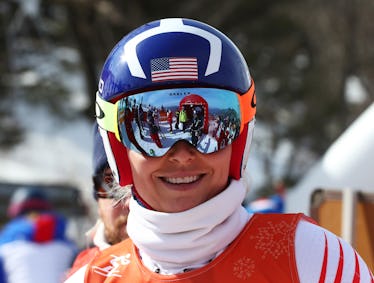 Lindsey Vonn Is Definitely Still Twitter's Fave After Her Downhill Skiing Run
Alexander Hassenstein/Getty Images Sport/Getty Images
Everyone loves a good comeback story, and perhaps the most triumphant of them all is Lindsey Vonn's return to the Olympics after an eight year hiatus. During the 2018 PyeongChang Winter Games, the skier is competing in three alpine skiing events at these Olympics, but on Feb. 20 she made her grand return in the race that she's best at — the ladies' downhill. And the tweets about Lindsey Vonn's downhill skiing run prove that event eight years later, she's still an Olympic favorite.
Today was certainly a day that Vonn won't forget anytime soon. The four-time Olympian has returned to where she belongs — on the Olympic slopes at this year's Winter Games. Having already completed the ladies' super-G event on Feb. 17 where she placed sixth, the downhill event (her second of three) is the one that she truly shines in. Back in 2010 at the Winter Olympics in Vancouver she won the gold medal in this event. And now eight years later, Vonn has come back to reclaim her place as the number one female downhill skier in the world. I can only imagine how much anticipation was building within Vonn before taking off for her final run in this event.
And the Twitter was absolutely ready for the gold medalist's resurgence on the Olympic stage — particularly in tonight's downhill competition.
Vonn finished her downhill run with a time of 1:40:09, just .47 seconds behind the current first place holder Sofia Goggia of Team Italy —leading with a score of 1:39.22. And Vonn held her second place position for quite sometime until Norway's Ragnhild Mowincke speeded down the course and finished just .09 seconds more than Goggia, earning her a time of 1:39:31 and just edging out Vonn of the silver medal. Though Vonn took home the bronze, it was clearly bittersweet.
Vonn was visibly upset after realizing that she was knocked out of her second place spot. And who could blame her? She worked so hard to get back to the Olympics and this event means so much to her personally. Not to mention that she had dedicated this race to her late grandfather who passed away in November, and hope that she could honor him with a gold medal win in the downhill — her favorite race. But Vonn still managed to place third and will honor her grandfather's life with an Olympic bronze.
And despite falling short of the gold, fans were still thrilled that Vonn placed in what is likely her final downhill Olympic race.
This return to the Olympics was extremely emotional for Vonn. Back in 2013 at the Alpine world championships in Austria, Vonn suffered from a devastating crash during the super-G event that resulted in knee surgery. The procedure took her out of competition for the rest of the season. Just shy of attending the Sochi Games in 2014, Vonn was forced to sit out her first Olympics since she made her debut at age 17 all the way back in 2002 in Salt Lake City, Utah.
But tonight Vonn was the center of attention during the downhill event — both before and after she made her way down the course. The reason being is that she's pretty sure these will be her last Olympic games. The 33-year-old hasn't made a definitive statement yet on whether or not she'll return to the Olympic stage after 2018. Even before the downhill race, Vonn hinted that this will be her grand finale. In the tweet she wrote,
Tomorrow I will push out of the starting gate in what will most likely be my last Olympic Downhill race. I'm trying to enjoy the moment as much as I can and I am thankful to share this race with such amazing teammates.
In an heart wrenching interview with NBC following her run she said that this was, in fact, her last Olympic downhill race with tears streaming down her face. So it's pretty much set in stone that 2018 will be end of Vonn's Olympic journey. Her heart and her presence will sorely be missed in Winter Olympics to come, but her legacy will definitely live on.