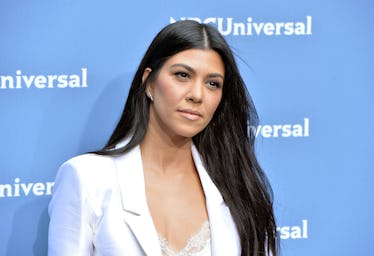 Reports Claim Kourtney Kardashian Is Also Pregnant & Twitter Isn't Buying It
Slaven Vlasic/Getty Images Entertainment/Getty Images
Shh. Can you hear that? It's the sound of oh-so-many doubters and cynics on Twitter who are weighing in on the latest Kardashian news. Is Kourtney Kardashian pregnant, as a new report suggests? Kardashian is reportedly pregnant with her fourth kid, her first child with boyfriend Younes Bendjima.
Elite Daily reached out to Kourtney Kardashian's and Younes Bendjima's teams for comment, but did not hear back by time of publication.
Life & Style reports on the latest Kardashian pregnancy, noting that, according to a source: "She was thrilled to learn she was expecting. She loves being part of a large family and having so many siblings ... and she wants the same for Penelope, Mason, and Reign."
If this pregnancy report is true, that would mean Kourtney Kardashian, Kylie Jenner, Khloé Kardashian and Kim Kardashian are all expecting. What are the chances?
Fans on Twitter aren't so convinced about the latest Kardashian pregnancy rumor, with one noting: "If this is true and Kourtney really is pregnant...Kris Jenner has truly outdone herself. Incredible."
Shady? Hmm.
And some people are just over it altogether, with one person tweeting: "3 things I don't care about.. whether or not Khloe, Kourtney or Kylie are pregnant ‪#oldnews."
Others were just in disbelief about yet another pregnancy report, with tweets such as: "Now Kourtney Kardashian is pregnant too" and "Now kourtney pregnant? This family."
Still others hoped for some answers, with one fan tweeting: "WTF!!!!! Is this real or just a rumor? If this true.. Kylie Khloe Kim and also Kourtney are pregnant? ‪#KourtneyKardashian‪ #Kardashian."
This fan, as many others, isn't believing anything until Kardashian herself confirms the rumor, tweeting: "Sources reporting Kourtney Kardashian also pregnant by her current bf BUT unless Kourtney K confirms this Herself I find it hard to believe."
Is Kris Jenner playing a role? Conspiracy theories abound: "Kourtney Kardashian is also pregnant and I'm laughing so much. Kris Jenner you PR monster."
And this was a major theme: "Kourtney Kardashian can't be pregnant too...surely?"
This may just be an overload of Kardashian pregnancy reports because some people have clearly hit their limit:
I'm just gonna leave this one here. Too funny: "Kourtney Kardashian pregnant? They need a new hobby."
Something in the water? One fan weighed in with this theory: "What did they put in the water at the kardashian houses? Now Kourtney's pregnant? They just need Kendall to complete the set."
This GIF's sentiment was also a common theme:
And Kris Jenner is keeping at least one person up at night: "IS KOURTNEY PREGNANT NOW TOO WTFFFF WTFFF KRIS JENNER I CANT SLEEP ANYMORE."
One fan tried to wrap their head around this idea: "Now they're saying Kourtney is pregnant too omg imagine you and 3 of your sisters having kids at the same time." It would make for good reality TV, wouldn't it?
Another fan had this chilling thought: "Now Kourtney Kardashian is pregnant. All of them are pregnant except Kendall. So far. The apocalypse is really here y'all."
Anyone else having this feeling? So relatable: "there's rumours Kourtney is pregnant now, i honestly can't keep up anymore."
This fan is keeping her thoughts straightforward: "Kourtney ain't pregnant y'all."
This latest pregnancy report has people wanting answers, at least from one of them: "Wait so kourtney is pregnant now too?! CAN ONE OF THEM JUST OFFICIALLY ANNOUNCE THIS ALREADY?!"
Here's a thinker: "Now rumors are starting that Kourtney is pregnant too... are people THAT stupid or are the Kardashians THAT attention hungry? Or both?!"
As these things go, nothing is official until an announcement is made, so reports, rumors, and speculation will continue to swirl until the pregnancy news is confirmed or denied. Taps foot impatiently...
Check out the entire Gen Why series and other videos on Facebook and the Bustle app across Apple TV, Roku, and Amazon FireTV.