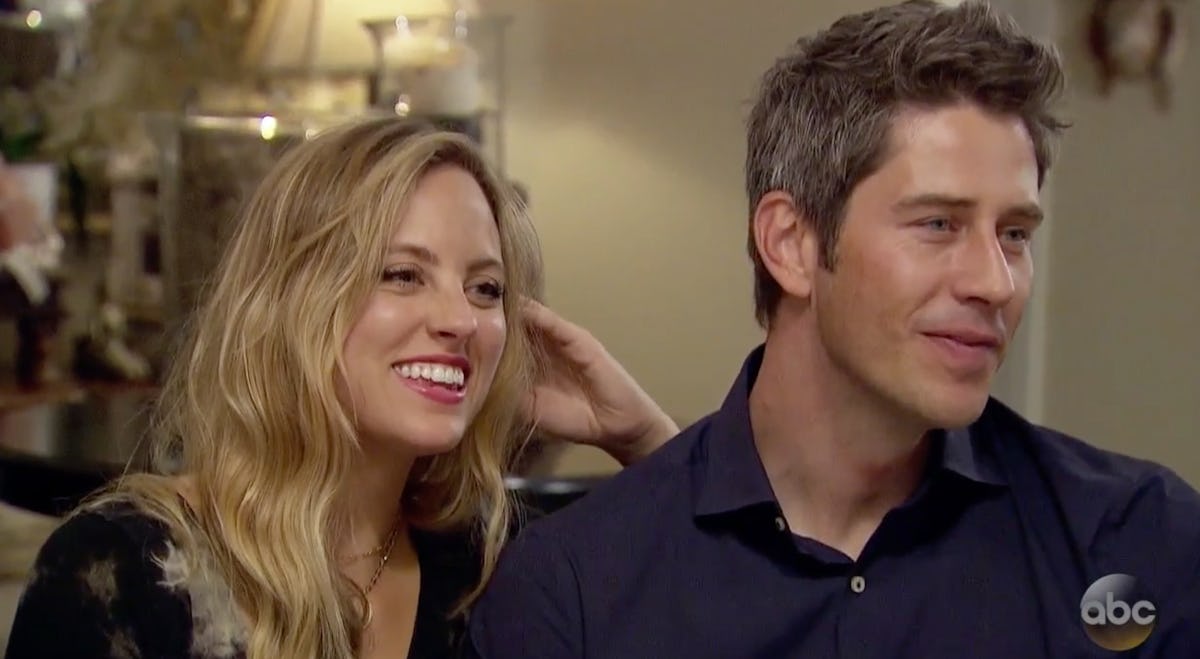 Kendall On 'The Bachelor' Introduced Arie To Her Twin & Twitter Can't Get Over Her Name
ABC
Honestly, we thought that the funniest thing to expect on Arie's hometown date with Kendall on Week 8 of The Bachelor would be seeing her obsession with taxidermy in all its dead animal realness. Alas, Bachelor Nation was shook by something else: Kendall's identical twin sister, Kylie. Yes, you read that correctly. And tweets about Kendall and Kylie on The Bachelor prove fans can't get enough of this hilarious coincidence.
Kendall and Arie's date kicked off in true Kendall fashion. The quirky LA creative director took him to what looked like a massive storage unit filled with stuffed creatures. After they engaged in a little DIY taxidermy action that involved creating stuffed puppets out of actual rat skin and then marrying them in front of a Parisian diorama (don't knock it before you try it?), Kendall told Arie about her family. That fam includes her mom, dad, brother, and a sister named...Kylie. Move over, Jenner girls. There's another Los Angeles Kendall and Kylie sister duo in town and TBH, they existed on the planet before you did.
Of course, Twitter reacted accordingly to this reality TV name incident, because The Bachelor plus anything Kardashian/Jenners is a trending topic waiting to happen.
Yup, Kendall (the Bachelor one) looks just like her sis. The only way to really tell them apart is Kylie was rocking what looked like a blow-out and Kendall has been wearing her hair wavy.
And Kylie obviously has a lot of insight, or twinsight, into her sister's feelings. "She reads really heavily on energy," Kendall told Arie, which sounds like a very LA thing to say, but it was true. Kylie was clearly looking after Kendall during her alone time with him, where she was able to grill him a bit about their relationship. "What I also got was that there was a little bit of space between you…" she remarked, before Arie confirmed he was falling for Kendall.
When Kendall and Kylie got a chance to speak about it all, Kendall revealed she was serious about Arie, but she might not be at the point of preparing to say "I do" just yet. "As of right now I don't think I'm ready to be engaged," she confessed. "I do feel myself falling for him. 100 percent."
Arie has been pretty vocal about his thoughts on Kendall throughout the season. "I've never dated anyone like her," he mentioned before their hometown date. "She really keeps thing interesting." That's for sure. This is the woman we were introduced to by watching her sing a song to a stuffed seal in a tree. We know she has a unique personality, she's intelligent, and she appears to have a good heart, but is that enough to take her and Arie to the next level?
Arie spoke about their connection in his blog following last week's episode in Tuscany, revealing,
As always, my conversation with Kendall was fun and interesting. Other than worries about her readiness for marriage, our relationship was on such a good track. Our chemistry was off the charts, but I needed to make sure that our relationship wasn't just about chemistry. In the past, I've had relationships based solely on our physical connection, and didn't want to repeat my mistakes.
Kendall's commitment came into question at the end of this week's episode in a confusing rose ceremony that kept the audience guessing until the very last moment. Before the elimination proceedings kicked off, Arie did a lot of heavy breathing and pacing and eventually pulled Kendall aside to question her about her readiness for marriage. "Could you be engaged and be comfortable in that?" he pressed. Well, Kendall's reassurance that she felt something with him was enough to keep her safe. After their tense convo, he ended up sending home Tia instead, with no explanation other than "there was something missing."
Could it be? Maybe Arie's down for a life of making figurines out of rat skin after all.