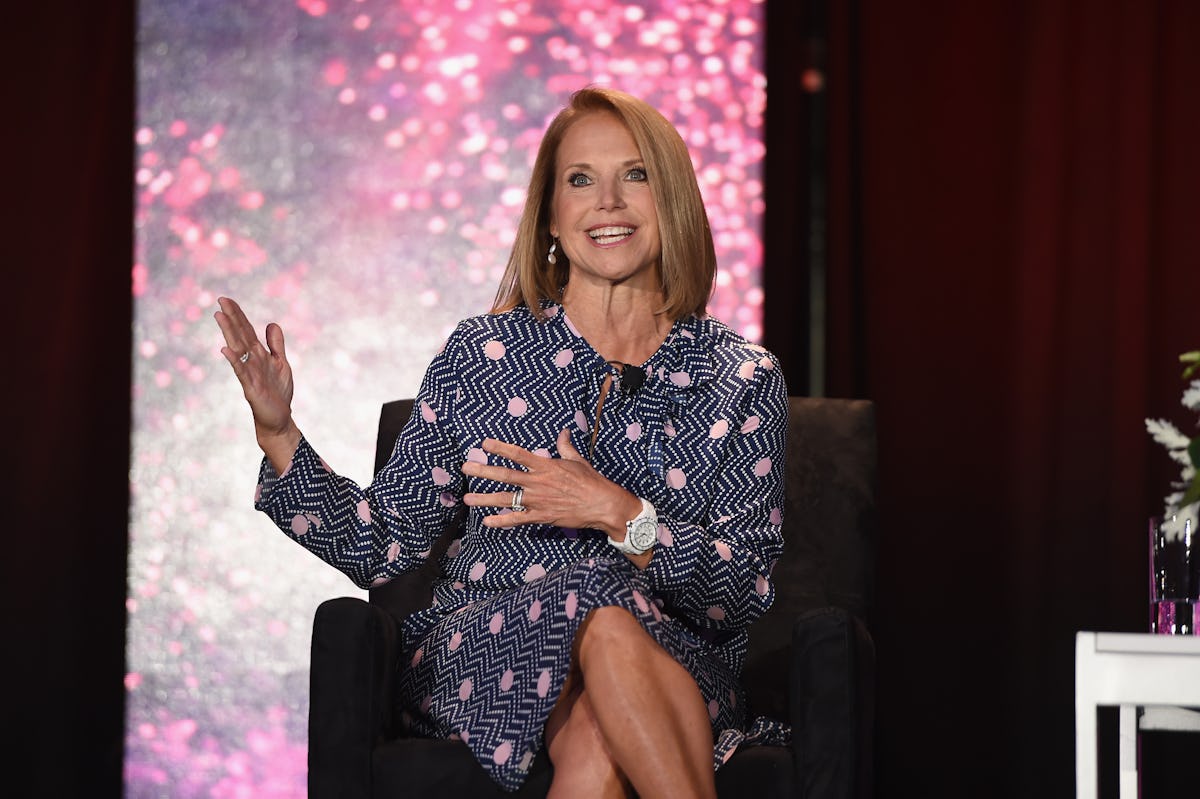 People Are So Happy To See Katie Couric Hosting The Winter Olympics Opening Ceremony
Larry Busacca/Getty Images Entertainment/Getty Images
Friday, Feb. 9 is the night we've all been waiting for over the past four years: the official kickoff to the 2018 Winter Olympics. Aside from all the amazing sports that fans will get to watch over a two-week period, the commentaries are what really stand out and bring the event full-circle. Over the years, we've seen people like Matt Lauer host the Olympics opening ceremony on a regular basis, but this year is a bit more special. Katie Couric has the spotlight and is hosting alongside Mike Tirico for the very first time. So naturally, social media users have started to post their thoughts on the matter, and the tweets about Katie Couric hosting the 2018 Olympics opening ceremony broadcast are everything you probably expected.
Friday night marks Couric's third time hosting the Olympics opening ceremony, but her first time alongside co-host Mike Tirico. Last month, she took to her Instagram to announce the news, sharing a fun picture of herself and Tirico. Couric wrote that she was "very excited to host the" Winter Olympics. Many people were very excited to have Couric at the lead for the PyeongChang Olympics — she obviously has more than enough experience to be a great host for the major event.
And sure enough, Twitter cheered as they saw her take us through the ceremony.
Couric herself seemed excited to head to PyeongChang, at least based on her Instagram post.
On Jan. 17, Jim Bell, President of NBC Olympics Production and Programming, said it was "exciting" to have Couric on board as a host. He said,
It's beyond exciting to welcome Katie back to our Olympic booth. Katie has extensive Olympic experience, having anchored the Today show at six previous Games, and hosted the Opening Ceremony in Sydney, Salt Lake City, and Athens. We have been eagerly awaiting Mike's first prime time Olympic hosting duties, and now, with Mike and Katie, viewers will have two pros, and two terrific storytellers leading the way. I'm looking forward to both of them engaging with Joshua for his keen analysis, first shared with our viewers so memorably in Beijing in 2008. I have no doubt this compelling trio will capture both the significance and glory of the ceremony's signature moments.
Previously, opening ceremonies have been hosted by Couric's colleague Matt Lauer, who was recently fired from Today after he was accused of sexual harassment late last year. On Nov. 30, Lauer addressed the allegations in a statement that read:
There are no words to express my sorrow and regret for the pain I have caused others by words and actions. To the people I have hurt, I am truly sorry. As I am writing this I realize the depth of the damage and disappointment I have left behind at home and at NBC. Some of what is being said about me is untrue or mischaracterized, but there is enough truth in these stories to make me feel embarrassed and ashamed. I regret that my shame is now shared by the people I cherish dearly. Repairing the damage will take a lot of time and soul searching and I'm committed to beginning that effort. It is now my full time job. The last two days have forced me to take a very hard look at my own troubling flaws. It's been humbling. I am blessed to be surrounded by the people I love. I thank them for their patience and grace.
Obviously, his firing from NBC affected his opportunity to host the opening ceremony.
Later, Couric commented on his firing to People. She said,
The whole thing has been very painful for me. The accounts I've read and heard have been disturbing, distressing and disorienting and it's completely unacceptable that any woman at the Today show experienced this kind of treatment.
She continued,
I had no idea this was going on during my tenure or after I left. I think I speak for many of my former colleagues when I say this was not the Matt we knew. Matt was a kind and generous colleague who treated me with respect. In fact, a joke I once made on late-night television was just that, because it was completely contrary to our brother-sister relationship. It's still very upsetting. I really admire the way Savannah [Guthrie] and Hoda [Kotb] and the entire Today show staff have handled a very difficult situation.
Hosting the Olympics opening ceremony with a brand new partner may be challenging, but viewers clearly agree that Couric did an amazing job.