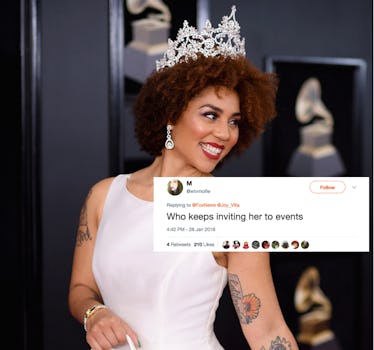 This Singer Wore An Anti-Abortion Dress To The Grammys & Twitter Is Pissed
Dimitrios Kambouris/Getty Images Entertainment/Getty Images
Remember singer Joy Villa? The one who wore the "Make America Great Again" dress to the 2017 Grammys? Well, the singer just made another political statement by gracing the 2018 red carpet with a pro-life outfit, and these tweets about Joy Villa's anti-abortion Grammys dress are not holding back.
First of all, I don't really know Villa outside of her controversial fashion choices. But I can't be the only one, as she is now best known for being the odd-Trump-supporter-out at award shows. Last year, when everyone was aching over Trump's win, Villa decided to make her allegiance known and wear a dress that looked like it was a bunch of Trump lawn posters sewn together. The blue dress read, "Make America Great Again" down the side. This year at the Grammys, she took it one step further, some might say, and stepped out in a white dress that showed what appeared to be a rainbow womb with a fetus in the center.
This pro-life dress comes at a time where celebrities have been dressing to protest against sexual assault and harassment. To stand with survivors of assault. Villa, known for protest outfits on the red carpet, could have used this opportunity to help the cause in her own way. But, she decided to make her own statement.
At first glance, it seems that she let some children take a bunch of markers to her dress? Whatever it is, Twitter was very quick to say, "Heck, NO!"
Most people agree that they have no idea who Villa is.
While others are just confused about her fashion sense.
There is actually another layer to this story. You might not remember, but Villa actually filed a sexual assault complaint against a former Trump aide Corey Lewandowski in December. Lewandowski cited due process on an appearance on Fox's Varney & Co with Charles Payne, "There is a due process and there is a process which they will go through to determine a person's innocence," said Lewandowski.
But according to Billboard, Villa told Fox about Trump, "I love what he is doing; unemployment is down. I am totally for President Trump, and it's only been one year. I can't wait for the next seven years!" Villa then added,
I'm looking forward to saving money on my taxes as a small-business woman, I am looking forward to seeing Americans... [feeling patriotic] again. I'm glad that conservative values are back at the forefront as a pro-life woman.
As a woman who has publicly discussed sexual misconduct, Villa could have stood with the other celebrities on the Grammys red carpet. She could have worn an outfit that puts the focus on the #MeToo movement. But instead, she took the opportunity to make an anti-abortion statement.
Celebrities even came up with their own way to support the cause and show solidarity with the #MeToo and #TimesUp movements. They decided to don white roses.
According to People, a group called Voice in Entertainment, formed by Senior Vice President of Roc Nation, Meg Harkins and Karen Rait, Rhythmic Promotion, Interscope/Geffen/A&M Records and 15 other women in the industry, sent a letter encouraging their colleagues to also put on a white rose in solidarity. The letter reads,
As we are inspired by the #timesup campaign, we are encouraging the artists that we work with and our colleagues attending the 60th Annual Grammy Awards in New York City to wear a white rose to the ceremony on Sunday, January 28th. We choose the white rose because historically it stands for hope, peace, sympathy and resistance.
We are at a time now where it seems like every day, another brave woman is coming forward about sexually harassment or assault. Because the high concentration of the allegations have been in the entertainment industry, women have banded together to try and put an end to it. With movements like #MeToo and Time's Up, women all over the globe are showing their support for victims. To find out that Villa came forward as an alleged victim but isn't using her platform to support others is hard for some to hear.