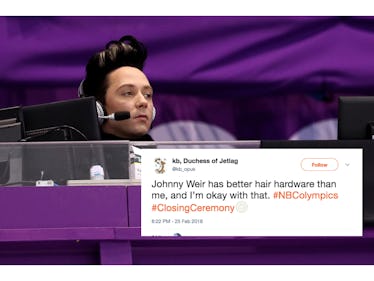 Johnny Weir's Outfit At The Olympics Closing Ceremony Is So Extra & Twitter Loves It
Maddie Meyer/Getty Images Sport/Getty Images
Johnny Weir is hands-down one of the best dressed acts that I've seen during the 2018 PyeongChang Games. From the intense colors he wears or the bedazzled patterns he sports, he's literally everything. And clearly everyone else agrees. Judging by the tweets about Johnny Weir's closing ceremony outfit that he wore on Feb. 25, Weir is a certified fashion muse.
On top of Weir's role as an Olympic analyst or his colorful personality, he's become a notable figure based on his eccentric fashion choices ever since the Winter Olympics started. Personally, on the first day of the event, Feb. 8, Weir and his co-host Tara Lipinski gave me life when they posted a selfie in matching pink outfits to express their excitement over covering the winter event. The caption of the Instagram post read,
We've come a long way since Sochi 2014. We are honored and privileged to be able to cover all the action on the ice for you guys from Pyeongchang 2018. We can't wait to get started!
And tonight, Weir gave us one final slay, donned in an all-white suit with his hair pinned up and decorated with a bedazzled, star-shaped hair clip.
Twitter users couldn't get enough of his outfit.
One user wrote that Weir's outfit and hair looked better than hers at two high school proms and her wedding.
I don't know if I would've shared that @cynthianagle.
Others, however, completely roasted Weir's outfit.
I mean, they're not wrong though?
OK, the Colonel Sanders comparison took me out. Well played, @TicketRadio. Well played...
Weir's look wasn't the only one that turned heads during the closing ceremony.
While people gushed over Weir's look, White House adviser Ivanka Trump made her debut at the closing ceremony, representing her country in full Team USA gear. She previously expressed her excitement about participating in the event with CNN, saying,
I am honored to lead the U.S. delegation to the closing ceremonies of the PyeongChang 2018 Winter Olympics. We look forward to congratulating Team USA and celebrating all that our athletes have achieved. Their talent, drive, grit and spirit embodies American excellence, and inspire us all.
Judging by Trump's decision to wear full Team USA gear, she was really excited. But honestly, who can blame her? Team USA won 23 Olympic medals during this year's Olympics.
There were some pretty amazing acts happening at the closing ceremony.
The Olympics closing ceremony was an eventful one, to say the least: There were skating pandas. 13-year-old guitarist Yang Tae-hwan went full-blown Guitar Hero and blew our minds. Dancers paraded around in light-up suits. The emotional Parade of Nations celebrated all of the athletes who went to PyeongChang to live out their dreams. And there were tons of iconic performances.
One of the event's biggest performances of the night was from K-pop artist CL who has been described by Forbes as "one of the most iconic Korean female rappers and fashion icons ... [and] an artistic muse of Moschino creative director Jeremy Scott." Her set proved the statement to be true; she rocked a badass all-black ensemble, set the stage ablaze (literally) and killed her hit single "The Baddest Female."
Lastly, the nine-member boy band and global sensation EXO performed, singing their hit songs "Power" and "Growl," among thousands cheering fans and pumping EDM beats. The set was the perfect closer to an equally epic two-week Olympic run.
To close the event, International Olympic Committee (IOC) president Thomas Bach declared that the 2018 PyeongChang Games was over and passed the torch to Beijing, which is the site of the 2022 Olympics. I'm sad that it's over, but I have to say that I've never enjoyed commentary as much as I have during this year's event, so I hope they'll bring Weir back for the Beijing Games. Besides, who else is gonna give me as much inspiration to wear whatever I want, whenever I want?