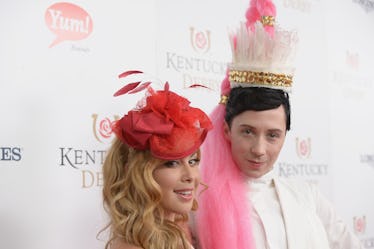 Johnny Weir & Tara Lipinski's Olympics Outfits Are So Extra & It's Perfection
Gustavo Caballero/Getty Images Entertainment/Getty Images
At the 2014 Sochi Olympics, America witnessed something magical happen on NBC. No, it wasn't Meryl Davis and Charlie White's true love on ice. It was the rise of Johnny Weir and Tara Lipinski as figure skating analysts. As the two former Olympians displayed their colorful personalities and enthralling commentary, viewers fell head over heels (in love and in confusion) for Johnny Weir and Tara Lipinski's Olympics looks. When the 2018 Winter Olympics rolled around, Lipinski and Weir did not disappoint as they took the analyst booth for the figure skating competitions in PyeongChang, South Korea.
Lipinski and Weir raised eyebrows for their outfits during the 2014 Winter Olympics, where they carefully matched their clothing, which were true lewks. Knowing that they had created high expectations for themselves, Lipinski and Weir did not come to play for the 2018 Olympics. For these games, the pair was elevated to NBC's primary figure skating analysts, giving them even more visibility — and responsibility — for one of the Winter Olympics' most popular sports.
"We've come a long way since Sochi 2014. We are honored and privileged to be able to cover all the action on the ice for you guys from Pyeongchang 2018. We can't wait to get started!" the pair wrote on their joint Instagram account on Feb. 8, as the PyeongChang Games began, along with a throwback pic from Sochi.
And once competition began, Weir and Lipinski brought their own A-game.
"So lucky to be sitting next to these two as we start this amazing journey. We are ready to breakdown our sport in the most entertaining and real way for you guys.... are you ready?!" Lipinski wrote in an Instagram caption showing off her and Weir's dazzling red outfits on Feb. 9.
Between the sequins and the big hair, many viewers starting thinking about, well, The Hunger Games, wherein host Caesar Flickerman wore outrageous outfits.
Weir took it in stride. "I get it. Mommy loves it," he tweeted on Feb. 12 alongside a gif from The Hunger Games.
The memes, arguably, only fueled Weir and Lipinski's fire.
Johnny's hair, which he says was done by Mariola Zysk, just grows and grows.
Meanwhile, Tara has been all about the sparkly, bodycon dresses with long sleeves.
Yes, the looks have been super extra.
And why shouldn't they be extra?
This is the Olympics! It's all about going all out and being extra AF in everything that you do! Without that personal drive to go above and beyond what's been seen before, the Olympics are just another first date tripping through an ice skating rink. By wearing these incredible, over-the-top outfits, Lipinski and Weir are paying respect to the true spirit of the Olympic Games, as far as I see it.
And above all, it's a great display of friendship and Team USA teamwork.
Yes, it's Fash-un. But it's also fun.
That is what makes Lipinski and Weir such great analysts. Of course, they have the technical expertise, as former Olympic figure skaters themselves. They know how a triple axel goes, they know why a quad didn't connect, and they intimately know the pressure that comes with competing at the Olympics at a young age.
But then they pair that expertise with these outrageous characters, and it makes for an immensely enjoyable program. Even Scott Hamilton, the former NBC primary figure skating analyst, was happy to admit that. "Johnny and Tara were just this phenomenon, and no one was going to stop them," Hamilton told The New York Times. "The worst thing I can do is have an ego in all this because it's not about me. They were such a breath of fresh air."
Indeed, figure skating has been attempting to breathe fresh air into the sport — that's partially why, it's largely believed, skaters are now allowed to use music with lyrics, to broaden the appeal of figure skating. So if Lipinski and Weir are able to get more eyes on figure skating because they're drawing in viewers with their colorful outfits and personality, I'm all for it. Thrive on!