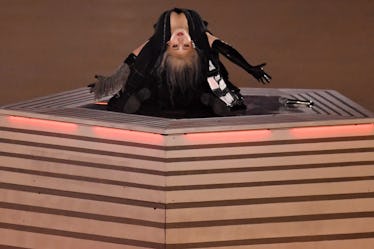 CL's Olympics Closing Ceremony Performance Was Fire & Twitter Is Screaming
David Ramos/Getty Images Sport/Getty Images
It's a sad time for sports fans around the world: the Winter Olympics is ending, and won't be back for four long years. But at least the event didn't go out without a bang. On Sunday, Feb. 25, K-pop star CL performed at the Olympics closing ceremony, and it was absolutely bananas! If you're anything like me, the tweets about CL's Olympics performance will have you wishing you were there to see it all go down in person.
CL's performance was HUGE. The set included blaring, fist-pump worthy tunes, multi-colored lights that flashed across the stands, and some of the most badass backup dancers that I've ever seen. CL appeared in a long-sleeved black dress, paired with a leather corset, and matching knee-high boots. The pop starlet topped off her dramatic look with an intense red lip, a shimmery gray glove, and messy black and blond locks. She hit the stage to perform her single "The Baddest Female" and 2NE1's hit "I Am the Best," and it was as epic as you could ever imagine a performance being. I'd say it was like Janet Jackson-meets-Olympics, but I'll let you check it out first.
Her performance is totally "Rhythm Nation"-style, right?
Twitter users were equally shook by CL's set.
CL wasn't alone in the performance.
Following CL's fire performance, fellow K-pop group EXO took a turn on the stage (which featured the coolest projection of animals, including a tiger and a bird-like figure, if I might add). The group members dressed in white blazers with black trimming and dark-colored pants in total Bruno Mars-esque style. And their performance matched. They two-stepped, dusted off their shoulders, and did spins and kicks to their singles "Growl" and "Power" while multi-colored lights ripped across the stands. Afterwards, fireworks kicked off, making it the perfect closer to an epic 2018 Winter Olympics.
K-pop fans couldn't contain their excitement over EXO's performance either.
I never really watch closing ceremonies for any event just because it's always so bittersweet that they're coming to an end, but I gotta admit: the closer to the PyeongChang Games was totally worth watching.
When speaking about being asked to perform at the PyeongChang Games, CL told Billboard that the moment was "so special to her." She said,
It's so special to me. I haven't done a [performance] in Korea in a while so it was very meaningful. Just coming back home is real great.
She also opened up about why she selected the songs that she performed, telling the magazine that they represented her. She added,
I wanted to introduce myself with "Baddest Female" because that's my song, my first single, and it represents me. And the 2NE1 song is world-known and everyone could sing along. I wanted to do something like that.
CL was a rapper for the K-pop group 2NE1, which broke up in 2016. Since the group disbanded, CL has become one of the biggest Korean performers (and my fashion muse). She's had tons of successes, including her debut single "Lifted" appearing on the Billboard charts back in 2016, which I'd say is a pretty big feat for foreign acts. Still, tonight's performance proved that she deserves the hype and is a name worth knowing.
If you're ready to hear more of CL's music (of course you are), she told Billboard that she's currently working on new stuff. She said, "I am working on my music and hopefully I'll get to share this with my fans all around the world, and that they get to enjoy it." And when asked if any releases would be out in 2018 specifically, she answered, "We'll find out" before adding, "Yes, for sure."
So there you have it: the K-pop queen is gearing up to give us bops that we can assume will be similar to the one's we heard at tonight's closing ceremony. And that makes the end of the Olympics seem... not so bad after all.