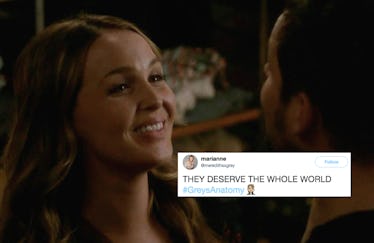 This Couple Got Engaged On 'Grey's Anatomy' & Fans Are Just Like "FINALLY"
YouTube/Twitter
Warning: Spoilers for the Grey's Anatomy Season 14 Episode 15. Another episode of Grey's Anatomy aired on Thursday, March 15, and at long freaking last, we got to see Jo Wilson and Alex Karev get engaged! *Swoons heavily*. The TV couple's relationship has been a roller coaster, to say the least, so fans are relieved the pair is finally together for good, and the tweets about Jo and Alex getting engaged on Grey's Anatomy prove it. Everyone's basically just like, "YES. FINALLY. I'VE WAITED 84 YEARS FOR THIS." In case you have no idea why Jo Wilson and Alex Karev getting engaged is a huge deal, first of all, why don't you watch Grey's Anatomy?! It's been on for 14 seasons for a reason, people! Second, it's a big deal because this has been the biggest season for Jo yet.
It was revealed a couple of seasons ago that Jo was still married to her abusive husband, Paul Stadler, whom she had run away from years before. Paul made a short but intense appearance on the show this season (played by Glee's Matthew Morrison), and his character burned hard and fast before we learned his fate in Season 14 Episode 10. Paul went to Seattle to get an official divorce from Jo so he could marry his fiancée, Jenny. It raised a lot of painful red flags for Jo and many thought the Paul story arch, since it was such a long time coming, was going to last much longer than it did. But he only lasted a couple of episodes before being killed off.
Paul, who was a doctor himself, was hit by a car when he was in Seattle and the blame almost immediately fell on Alex Karev. But we later learned that Paul was hit by a random drunk driver. He survived the accident, but when he was in the hospital being treated for his injuries, Jenny and Jo confronted him saying Jenny was going to report his abuse to the police. He tried to attack them and as he did, he fell over and hit his head twice, causing him to go braindead. Jo was still legally married to him, so it was up to her to decide whether or not to pull the plug. She ultimately decided to donate his organs, and that was it for Paul! Safe to say Jo and Alex had a pretty dramatic story arc this season.
Jo and Alex's engagement on Season 14 of Grey's Anatomy is seriously the sweetest thing. And she proposed to him!!
Giving me all the Friends vibes here, Jo!
Camilla Luddington, who plays Jo, tweeted the sweetest thing about the engagement after the show aired.
She tweeted, "Yes. Jo got down and proposed to Alex!!!!! now head to my IG for pics!!!!!" *Runs to Instagram immediately*.
Luddington posted the most adorable Boomerang of her and Justin Chambers (Alex Karev) posing with Jo's ring.
She also posted some behind-the-scenes photos from the engagement scene.
Fans are so happy the TV couple is finally engaged.
In an interview with Entertainment Weekly following the episode where we finally learn Paul's fate, Luddington said she was surprised the arc was so short, but also relieved because it made room for new beginnings for Jo and Alex. She said,
I was really surprised it would wrap up quickly, but at the same time, I felt like he gaslights her so much in the first episode, selfishly for the character, I didn't want her to spend four or five episodes in that place with him. He doesn't seem very redeemable and he doesn't seem sorry. Understanding more of who this character was who I was dealing with, I was wondering how it could end anyway with him, so after reading it, I was like, 'OK, I understand why they wrapped it up in that way.'
She said of what it meant for the future of Jo and Alex's relationship,
I've always rooted for them to get married. I do think it clears a path for them to move forward. Finally [Paul] isn't something that's clouding that decision anymore. I know Alex has proposed 1,000 times, so hopefully he gives it one more go. But yeah, I think it does clear the way for all of that. I hope it clears the way for marriage and maybe babies at some point. I think they're definitely headed in the right direction now and there's nothing stopping them.
Well, Camilla, they're getting married now!! God, I love this show.