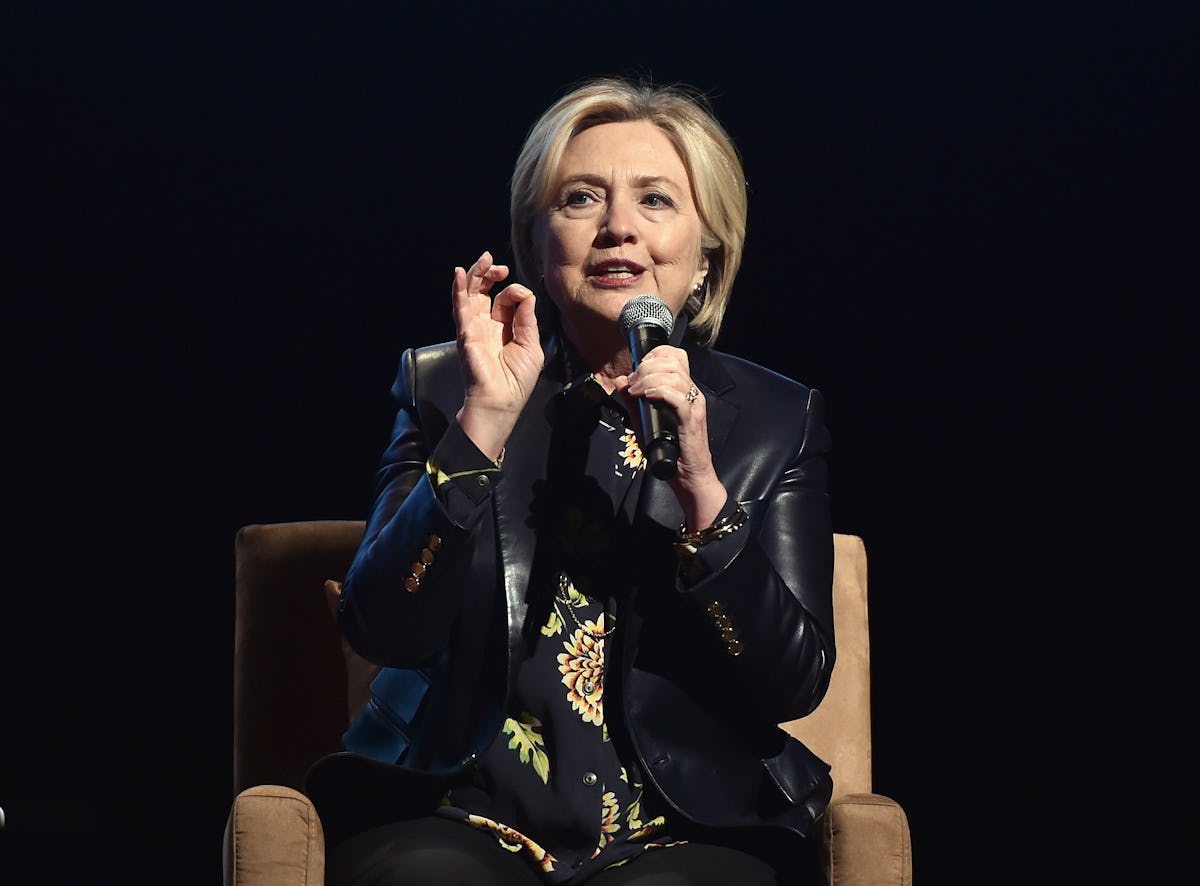 Hillary Clinton Thanked "Activist B*tches" & Twitter Has Mixed Feelings
Alberto E. Rodriguez/Getty Images Entertainment/Getty Images
Although she did not win the 2016 election, many Americans continue to look to Hillary Clinton for guidance and wisdom in times of hardship and distress. In the last few weeks alone, we've dealt with an unsatisfactory plan for Dreamers, a government shutdown, and reports that President Trump cheated on his wife with an adult film star (which all parties deny). Hardship and distress, indeed. Thankfully, the 2016 Democratic party nominee offered us some solace with a social media message. However, tweets about Hillary Clinton's video thanking activists show mixed reactions among both critics and supporters.
According to The Hill, on Jan. 26, Huffington Post political commentator Alex Mohajer posted a video on his Twitter of Clinton thanking activists for their hard work. Clinton opens by saying, "Hey everyone, I just wanted to say thanks. Thanks for your feminism, for your activism, and all I can hope is you keep up the really important, good work."
Seems pretty standard, right? It is, but then someone is heard speaking off-camera, saying the words "activist bitches supporting bitches." Clinton laughs, and then goes on. "And let me just say, this is directed to the activist bitches supporting bitches, so let's go." Mashable reports that the video was taken at a lunch in New York by a member of Bros 4 America.
During Clinton's campaign in 2015, she attempted the popular "Whip/Nae Nae" and dab dances on The Ellen Show. She also appealed to millennials by tweeting and asking them to express how they felt about their student loan debt using emojis, and telling then-opponent Trump to delete his Twitter account. But this is a different kind of Hillary than the one we're used to seeing, particularly because of the profanity she uses. It's a much more casual and light-hearted tone than we're used to hearing from the former Secretary of State. To be honest, hearing the word "b*tch" made me feel a little uncomfortable.
According to Mashable, Activist B*tches Supporting B*tches (ABSB) is a resistance group, and has some overlapping members with Bros 4 America. It is unclear how to become a member or what membership entails.
So it appears, then, that this was not an original quip by Clinton, but rather a specific shoutout to the group. This makes me feel a little better. Still, the video has received mixed reactions.
Some who are presumably part of ABSB are thrilled with the shoutout and happy to have received the acknowledgement.
Others who do not necessarily identify with the group have still expressed support for the video.
Some, however, have expressed concern and general confusion over the video.
@gingebhaj pointed out the fact that the word "b*tch" is often reclaimed by women, and that Clinton knows a thing or two about being called a b*tch.
Mohajer, the original poster, has defended the video against critics, and posted a screenshot of the popular vote tally as a final comment on the matter.
Clinton has spoken up about various current events in the political sphere and beyond. Recently, she pointed out the disappointing irony in the president's comments about Haiti as a "sh*thole" country with a tweet of her own:
She got in another dig with a subtle retweet regarding President Trump's suggestion that the FBI is biased against him and toward Clinton. In late December, Clinton retweeted Dr. Laurence Tribe, Professor of Constitutional Law at Harvard University, who noted the blatant inaccuracies in Trump's argument.
It'll be interesting to see how Clinton's voice and brand continues to evolve throughout the Trump presidency.
Disclosure: Hillary Clinton's son-in-law Marc Mezvinsky joined Social Capital, an investor in Bustle Digital Group, in mid 2017 and joined the Board of Bustle Digital Group in early 2018.
Check out the entire Gen Why series and other videos on Facebook and the Bustle app across Apple TV, Roku, and Amazon Fire TV.