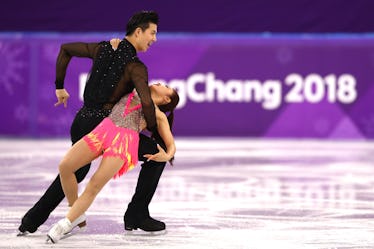 Three Figure Skate Pairs Did Their Ice Dance To "Despacito" & Twitter Is Screaming
Dean Mouhtaropoulos/Getty Images Sport/Getty Images
From figure skating to ice dancing, the Winter Olympics never cease to amaze me. I can hardly walk in a straight line on the solid ground much less salsa on slippery ice. These impressive Olympians have been conquering back to back ice dancing routines, but the three figure skate pairs performed "Despacito" as their ice dancing short dane song, and these reactions from Twitter prove we're feeling the heat.
As if we didn't hear enough of it on the radio in 2017, billboard-busting banger "Despacito" graced the Olympic ice arena......three times. The ice dancing short dance routines begin on Feb. 19 at 8 p.m ET, and if you're wondering why there's so many latin-inspired performances on the docket, it's because it was required.
Chinese skaters Shiyue Wang and Xinyu Liu performed their short dance routine to a version of Luis Fonsi's "Despacito." Let's be honest — the song is catchy at one listen, but after that it starts to wear on anyone.
So imagine everyone's surprise when shortly after South Korean pair Yura Min and Alexander Gamelin performed their routine with the exact same song. Yes, "Despacito" played twice both for ice dancing routines, with only one break in the between.
Then, just when we thought it was over, "Despacito" hit the Olympic arena for a third time, courtesy of Polish duo Natalia Kaliszek and Maksym Spodyriev. Third time's supposed to be the charm right? Well sadly, not quite this time.
In classic Twitter fashion, we couldn't just let such a hilarious moment slip past us. So without further ado, let the dragging begin.
By the third time, people were getting sick of it.
Clearly Yura Min and Alexander Gamelin are a huge fan of the 2017 hit, because they performed this very same song during the 2018 Four Continents Championships in Taipei, China, as well as — of course — for their short dance in the Olympic team event, as well.
It got roasted then too.
Other performers were lucky to steer clear from the radio banger. The ShibSibs, otherwise known as Alex and Maia Shibutani, planned their short dance routine to a medley by Cuban bandleader Perez Prado, while reigning gold medalists Tessa Virtue and and Scott Moir threw a little samba into the mix.
But if that hilarious Olympics moment caught your interest, you might be asking what exactly is the difference between ice dancing and pairs figure skating? Don't worry, we were confused at first too. Former ice dancer, and now current coach, Justin Ross broke it down to NBC San Diego about what really differentiates the two.
He said,
Ice dancing is more about the quality of the edges. It's about the character, the passion of just the pure ice skating. There's also the compulsory dances, where it's set pattern dances and it's all about the chemistry between the two partners.
While the Internet is buzzing about "Despacito," let's get to know the U.S ice dancing pair whose relationshp goes way deeper than just Olympic partners.
The ShibSibs garnered widespread attention while competing for USA during the 2014 Sochi Winter Olympics as the world's most adorable brother-sister ice dancing duo. The pair placed ninth in Sochi, and now their triumphant return to the 2018 PyeongChang Winter Games gives them an opportunity to outdo an already impressive track record.
I can't remember the last time I had so much as a meal with my brother, much less performed in the Winter Olympics together. I'd like to go on record and say #siblinggoals?
Maia Shubitani spoke to People on Feb. 11 about her and her brother's excitement at the opportunity to compete in this year's Winter Olympics, and how they've returned more prepared than ever to clinch a top title.
She said,
We feel really good and excited heading into our second Olympic games. We learned so much from our first experience in Sochi. It inspired us a lot, but since then our career has really taken off. We came away incredibly motivated. We knew that our goals and our sights were set on 2018 and that gave us four years to develop our craft and really grow as people. We focused on a lot of the work on the ice, but then we also just took our skating to a whole other level by reaching outside of our lane and really collaborating with incredible people.
That's great after all, but....
Good luck getting "Despacito" out of your head for the rest of the night. May I suggest humming "It's a Small World" to yourself?