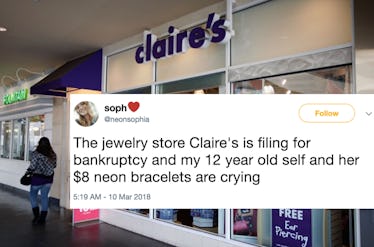 Claire's Will Reportedly File For Bankruptcy & Our Pierced Ears Can't Believe It
David McNew/Getty Images News/Getty Images
Every time I set foot into a Claire's store, waves of nostalgia immediately carry me back to the early '00s. Coming in clutch with those free ear piercings, classic BFF heart necklace sets, colorful tutus, and almost every single flavor of lip balm known to man (and woman), Claire's was an accessory paradise for anyone and everyone (especially my third grade self). However, our go-to childhood store will apparently file for bankruptcy, according to reports. These tweets about Claire's reportedly filing for bankruptcy will truly tear you apart.
That's right: The accessory haven is reportedly preparing to file for bankruptcy within the next few weeks, according to Bloomberg. In hopes of paying off the $2 billion debt they've somehow acquired, Claire's will apparently be changing management, and I am literally praying to each and every one of my neon scrunchies and butterfly clips that they will make a fierce comeback. I know you might be in total and utter shock RN, but I am crying tears of those little spiky-looking rubber ball earrings (because seriously, RIP). And unless I can get Claire's brand slap bracelets, glittery tiaras, or plastic earrings elsewhere, I'll be right here in a constant state of mourning. It looks like most of Twitter is feeling the same type of way.
According to a report from TODAY, Claire's can seek Chapter 11 protection in order to keep stores open for a little while longer, while they figure out what their next moves will be. Even though filing for bankruptcy doesn't actually mean that they would be totally shutting down in the immediate future, things are looking a little grim right now. I'm seriously just hoping this is a mere rough patch for the beloved accessories store, and hopefully, they'll end up making a Britney Spears-in-2007-type of comeback.
Honestly though, Claire's has helped me "keep it real" as the store stood by me in my not-so-great tween years, so I'm making it a point to stand by it until the end of time. Also, I bought way too many Claire's-brand miniature snow globes, piggy banks, and photograph clips for any of this reported bankruptcy to actually be a real thing, so hopefully this is just what our POTUS eloquently refers to as #fakenews. (That's probably unlikely, though.)
Oh, and I hate to break it to all of you Gen X and Y babes out there, but Claire's reportedly filing for bankruptcy isn't even the worst of it all. In case you hadn't already heard, it was also announced this week that Toys "R" Us is reportedly preparing to close all of their stores. Yeah, so there's an extra little dump on top of every single one of your cherished childhood memories.
Understandingly, almost nobody in the Twittersphere is taking either of these unfortunate pieces of news very well — and TBH, neither am I. Where will all of the children of this generation get their glitter, hair bows, and also every toy in the world? My inner child is truly and utterly devastated. Like, I really cannot take any more of this despair.
As a fellow '90s child, I'm completely aware that this was a lot to take in. But in the end, I know everything will be OK. Hopefully Claire's makes it through this time of reported hardship — and if they do ultimately close, it looks like I'll be stocking up on chokers for days. Also, I might need a side trip to the toy store, because the reported loss of Toys "R" Us is too much to bear. I'll BRB, I just need a moment with my glitter and Sock 'Em Boppers.