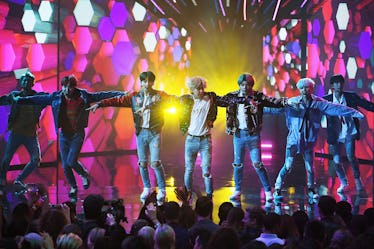 Tweets About BTS' New Year's Eve Performance Show Fans Are Going Wild
Kevin Winter/Getty Images Entertainment/Getty Images
You may or may not have heard of BTS, the seven piece pop boy band from South Korea, and if you haven't, now you have, and you're welcome. Thanks to their hella catchy beats, very involved choreography, and often very matching outfits, Bangtan Sonyeondan brings to mind a very high-octane Backstreet Boys but like, so, so much better. Their popularity turned global this year, and continues to grow every time people catch on to their unique and pretty d*mn epic pop performances. And their performance this year for New Year's Rockin' Eve was no exception to their rule. The tweets about BTS proved that fans were definitely here for it, using the tag #BTSxRockinEve.
And in case you want a little more background about the band, their name actually translates to "Bulletproof Boy Scouts" and their album Wings was the highest-charting and best-selling K-pop album in the U.S. of all times. Not bad, amirite? These guys definitely know what they're doing when it comes to blowing the minds of pop-fans the world over.
Now, it may surprise you to learn that BTS's twitter relevance is not new or unique to new years, in fact, when Twitter turned out their 2017 data information detailing the most-tweeted about celebrities, BTS was number one. And this is in part due to BTS's legion of very, very, very devoted fans who refer to themselves as the ARMY, which is an acronym for Adorable Representative M.C for Youth.
And as you may have imagined, of course, the fans had been fiercely anticipating their new year's performance for some time now.
And yes, the ARMY went wild as the boys seemed to go at it harder than ever for new years this year, donning metallic jackets and jeans while they performed their song "DNA."
But while the moves and tunes caused a roar of satisfaction and joy in their fans, because, let's be honest, the dancing is simply unreal, others had a few questions as to whether or not their was some lip-synch action going on tonight.
The devoted BTS fans, however, were not having any of that.
In fact, the ARMY is all about telling the world that BTS should be praised for their Rockin' Eve singing and dancing without any questions from the crowd, thank you.
BTS is rolling into 2018 by gaining new fans by the second, here.
And although the boys often wearing matching outfits, for their new years performances they got just a little more individualized.
But the fans are more than happy with their fashion choices. The tanks tops indeed caused a few internet swoons.
And while the boys are purportedly friends, they have been known to add in a little drama to their performances.
Fans were, as the kids say, totally shook, and thrilled that the popularity of the K-Pop band is only growing.
And yet, despite all that, although this was definitely a new years win for the fans, the work is not over.
Yes, when it comes to their love for the band, and prepping them for a world takeover K-pop style, they must keep their eyes on the prize in 2018.
And yes, indeed, the ARMY does treat their love for the band kind of like a job, sending out smoke signals to others for tips and tricks on increasing the band's popularity. Now if that's not love, I simply don't know what is, my friends.
If the Army hasn't yet convinced you that your 2018 needs to be filled to the brim with BTS all the time, let this be enough to convince you that the band is here to stay.
Can you even believe these arm waves?
Happy New Years, everybody!