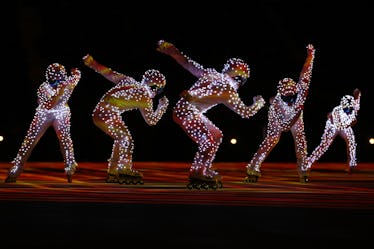 Everyone's Super Hype For Beijing 2022 After This Wild Sci-Fi Closing Ceremony
Dan Istitene/Getty Images Sport/Getty Images
PyeongChang 2018 Winter Olympics are over. All the sports have been played and all the medals have been awarded. Before we waved goodbye to the 2018 games on Sunday, Feb. 25, the Olympics closing ceremony gave us a little amuse-bouche for the next Winter Olympics: the 2022 Games, which will take place in Beijing. By the looks of things, it's going to be lit, and tweets about the Beijing 2022 and the closing ceremony prove everyone is already hype. I know I am!
Beijing 2022 ushered us into their Winter games with a spectacular eight-minute performance directed by Chinese film director Zhang Yimou. There were roller skaters bedazzled with tiny lightbulbs who skated around making fluorescent patters on the ground. What looked like flat screen televisions broadcasted scenes of neon colors. There were giant, lit-up, roller-skating pandas. It was like looking inside a kaleidoscope. If The Beatles were around now, that Beijing 2022 performance would be the music video for "Lucy In The Sky With Diamonds." Trust.
But what people noticed the most was how sci-fi post-apocalyptic robot future the whole Beijing 2022 portion of the closing ceremony came off.
And, let me tell you, Twitter cannot wait for a sci-fi fueled Winter 2022 Olympics.
There were also some less Tron-like and more traditional parts of Beijing 2022 at the PyeongChang closing ceremony. As is customary, before the whole show the International Olympic Committee (IOC) president, Thomas Bach, handed the Olympic flag to Beijing's representative. Passing the torch — no pun intended — to the next host city. Although Tokyo will actually be the host of the next Olympics in Summer 2020, it goes from Winter city to Winter city.
Lee Hee-beom, the PyeongChang Olympics organizing committee president gave an official goodbye to PyeongChang 2018. He said,
Although parting is sad, we will remember PyeongChang with beautiful memories. Athletes, you are true champions. The seed of peace you have planted here in PyeongChang will grow as a big tree in the not-distant future. The hope and aspirations of South and North Korean athletes together with cheerleaders will definitely serve as a cornerstone of the unification of the Korean Peninsula.
With that, the reins are officially in the hands of Beijing as they spend the next four years gearing up for the next Winter Games.
Beijing should be able to handle it. The 2022 Winter Games will mark the second time that the city held an Olympic event. They also hosted the 2008 Summer Olympics.
According to the official Beijing 2022 page on the Olympics website, they are already getting things underway. There will be three game zones: Beijing, Yanqing and Zhangjiakou. Both the opening and closing ceremonies will take place in Beijing along with all the ice sports events, like the curling and skating competitions. Bobsled, luge, skeleton, and alpine skiing will be hosted in Yanqing while all the other skiing events will take place in Zhangjiakou.
I don't know about you, but PyeongChang flew by for me.
I'm excited about a new location and to see what sorts of science fiction wonderland things Beijing has in store for us, but it's a little bittersweet. On the one hand, we have to say goodbye to PyeongChang and on the other, we have so long to wait until there's more Winter Games action.
You might be wondering how you're gonna hold on that long. Here. let me help you with that. There will be a couple of Star Wars films to keep you occupied. Starting with Solo: A Star Wars Film, then Star Wars: Episode IX (and probably one more by 2022). What else? A midterm election and a regular presidential election (that should keep you distracted for a long while). At least three more women's marches. Plus, lots of wardrobe changes and fashion weeks.
It'll be hard, sure. But we will all get through it together.