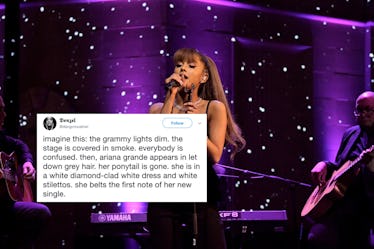 These Conspiracy Theories About Ariana Grande During The Grammys Are So Funny
Charley Gallay/Getty Images Entertainment/Getty Images
Let's get one thing straight: Ariana Grande is absolutely crushing life right now. Toward the end of 2017, things were pretty quiet for the "Dangerous Woman" singer, and many fans were wondering why she was staying so low-key. But then, our girl Ariana took to social media to basically confirm that she was just working on some new music, NBD. And the world was PUMPED. When would we be hearing her beautiful voice sing new songs once more? Well, according to a ton of conspiracy tweets about Ariana Grande at the Grammys, many fans thought Ariana Grande would be dropping a surprise single during the Grammys tonight.
Can someone say hell yes?! Actually, that'll be a HELL NO. Unfortunately, the singer didn't end up dropping a single thing at the Grammys tonight (you know, except dropping the BALL ON GIVING US NEW MUSIC).
We first learned of Ariana puttin' in work at the studio back on Dec. 13, when she took to Instagram Stories to show her fans a blurry screenshot of her in the studio, reportedly taken from a fan account. The screenshot insinuated that Grande was working on new music, but Grande quickly called out this photo, posting it alongside a caption that read, "I'm pretty sure dis is very old or fake." But then, she added, "If u wanted confirmation that I've been workin why didn't you just ask?"
Grande then posted a photo of a Polaroid picture that showed her (looking fierce AF) in a music studio, undoubtedly working on some sick beats:
Oh, no big deal, just Ariana looking like a queen, preparing to give the world life again with her music.
Well, tonight, after rumors started circulating, fans thought they had reason to believe that Grande would be revealing this new music at the Grammys, and can you even imagine how perfect life would be if that had turned out to be true?
Apparently, Grande's "Dangerous Woman" website was reportedly disabled riiight before the Grammys, which is part of the reason for all this speculation.
Even though she didn't end up murdering all of us with a surprise single, Obviously, Ariana Grande fans had a lot of ~emotions~ and basically freaked the eff out (and, um, rightly so):
Even late into the night, people still thought Ariana would break out in the last five minutes with a surprise song, and other Twitter users had to put all of us and our hopes in their place.
Ugh. Ariana, please give us something magical soon. C'mon, we've earned it.
The last time we heard anything new from Ariana was when the clock struck midnight on New Year's Eve (which feels like decades ago). She took to Instagram to give her fans a sneak peek of the music she was working on, and how could we end the year on a better note than that? Happy New Year, indeed. (Spoiler alert: The video she posted sounds like a group of angels harmoniously singing in unison, and it will bring tears to your eyes.)
I'll pause while you dab your tears away.
AND, did you peeop that caption? "See you next year"? Meaning, perhaps 2018 will be the year that we see the debut of some new tunes? It only makes sense that fans thought it might've happened TONIGHT AT THE GRAMMYS. But alas, we can't have everything.
Also, a quick PSA: Don't hate the Recording Academy for not putting Grande up for any nominations, because the rules dictate that albums be released between Oct. 1, 2016 and Sept. 30, 2017 in order to be eligible. (So basically, only two of her singles would have been able to qualify.) Sad, I know, but them's the rules.
If you're wondering where I'll be for the rest of the night, you can find me crying on my couch with my hair in an Ariana Grande-style pony, pissed off that we all waited for her to surprise drop her single on stage and rock my world, only to be disappointed by 2018 once again.