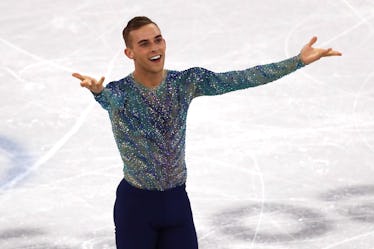 Adam Rippon Is Coming Back For The Rest Of The Olympics & Twitter Is Pumped
Dean Mouhtaropoulos/Getty Images Sport/Getty Images
Bronze-medal winning Olympian, Adam Rippon, has quickly become a national treasure as the 28-year-old figure skater on Team USA has been killing it on and off the ice. All good (nay, great) things must come to an end, though, and Rippon completed his final event at the 2018 Winter Olympics on Friday night, Feb. 16. But before you could even whip out the tissue to wipe away your tears, NBC had some great news for Rippon fans. These tweets about Adam Rippon as NBC's new Olympic correspondent prove that people are excited to see the skater back on their televisions.
UPDATE: Rippon has reportedly changed his mind about accepting the offer, and will not be a commenter with NBC, according to USA Today. His change of heart reportedly comes from the fact that in order to be a correspondent, Rippon would have to leave Team USA, move out of the Olympic Village, and would not be able to participate in the Olympics closing ceremony. "I am so flattered that NBC wanted me to work as a correspondent, but if I took this opportunity, I would have to leave the Olympic team and I would have to leave the (Olympic) Village," he reportedly told NBCSN. He continued on that it was important for him to support his fellow members of Team USA throughout the competition.
Rippon shared the news on Sunday night on his Twitter page that he won't be an Olympic correspondent, and he explained again that moving out of Olympic Village and leaving Team USA were the reasons he could not accept the offer.
In true Rippon fashion, he let his fans know that he reportedly found out about the offer from NBC when he saw it on Twitter.
EARLIER: The news that Rippon is joining the NBC crew as an Olympic correspondent for the remainder of the 2018 Winter Olympics came on Sunday, Feb. 18, according to the NBC Olympics website. USA Today reported that Rippon will join the NBC Olympic team on many platforms, including television, digital, and social media, according to NBC spokesman Greg Hughes.
If you're not familiar with Rippon, he's not only breaking barriers as Team USA's first openly gay figure skater to compete in the Olympics, but he also helped the U.S. figure skating team score a bronze medal in the team event.
Rippon is pretty much a delight to watch when he puts his talent on display on the ice, and on top of all of that, Rippon proved as an interviewee during the 2018 Winter Olympics that his interviews are anything but boring. People love that Rippon has been fully enjoying his Winter Olympic experience, and it's interviews like the one where he said, "I might not be the best, but I'm the most fun," that had his fanbase growing as soon as he hit the Winter Olympic scene. I seriously live for any moment that Rippon has a microphone.
Overjoyed Rippon fans (AKA most people) began showing their love on Twitter as soon as the news broke.
NBC must have known that Rippon fans across the United States feel similarly about the never-bashful figure skater, and the network's move to bring Rippon on board for the rest of the games has gotten people very excited about it.
"Great news! I look forward to seeing more of my hero, Adam Rippon."
"THIS IS THE HAPPIEST DAY OF MY LIFE."
"Wahoo! Love Adam and his attitude! He will make a wonderful addition to the NBC team!"
"I'd watch, for the first time ever, if Adam were on!"
See? Rippon's presence in the NBC booth is already recruiting new Winter Olympics viewers.
"Love your passion, honesty and sense of humor!"
"What a fun addition! Can't wait to see how his personality shines as a correspondent!"
"NBC is smart to hire Adam. He's already got Britney and Reese tweeting him."
Someone was quick to point out how beneficial Rippon will be to NBC's coverage. Beyond the amazing commentary that he's bound to provide, Rippon has a solid crew of famous fans, including none other than Britney Spears and Reese Witherspoon.
"Keep making us all smile at the #WinterOlympics and good luck today."
Witherspoon even called Rippon "reason number one" to watch the 2018 Winter Olympics.
If tweets from famous faces aren't what you need to get excited about Rippon as an Olympic correspondent, then take a look at the interview goodness that Rippon provides when he's on the other side of the mic.
Rippon gave the most relatable response ever to Andrea Mitchell when asked about how it feels to be competing in the 2018 Winter Olympics. As true Rippon fashion, he said he "highly recommends it."
"If you ever have the option, like, come to the Olympics."
LOL, Adam. I think after watching that, everyone probably wants the option to hang out with you.
After his final performance on Friday, Feb. 16, Rippon was asked how he explains his impeccable skating. His response, of course, "I can't explain witchcraft."
"I can't explain witchcraft."
When Rippon was asked about his last few days as an Olympic competitor, he addressed the fact that he wasn't a medal favorite, and he promised to "skate awesome."
"I might not be the best, but I'm the most fun."
The most fun, indeed, Adam. So, even though you don't have any more chances to see Rippon glide across the ice in the 2018 Winter Olympics, you can still tune in to NBC and watch Rippon make you smile with his commentary. Like I say (as of Sunday morning), some Rippon is better than no Rippon at all.