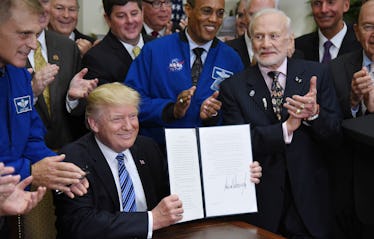 Trump Says He'll Fix Health Care By Using The "Power Of The Pen," Here's What That Means
Pool/Getty Images News/Getty Images
After months of failed GOP attempts at repealing the Affordable Care Act (ACA), the health care law otherwise known as Obamacare, President Donald Trump hinted at a different strategy for reform. On Tuesday, Oct. 10, Trump's tweet about health care suggested that he will work around Congress to make changes to Obamacare, and he essentially criticized congressional Republicans in the process. The president wrote,
Since Congress can't get its act together on HealthCare, I will be using the power of the pen to give great HealthCare to many people - FAST.
The words "power of the pen" are often used as a euphemism making policy by himself, particularly by signing executive orders. Trump's tweet indicates that his administration will largely ignore Congress and make changes to American healthcare policy by itself.
Meanwhile, the assertion that Congress "can't get its act together" could easily be read as clear jab at Republicans in the Senate and Majority Leader Mitch McConnell (R-KY), both of whom Trump is still reportedly frustrated with after failing to pass a major law since his inauguration.
After all, it was McConnell who hadn't managed to rally the 50 senate votes (plus a tie-breaking vote from Vice President Mike Pence) necessary to pass a Republican health care bill after the House had already done so.
To be clear, the Trump administration making major changes to health care law without Congress would not exactly be a new practice. Just last week, the Department of Health and Human Services (HHS) issued a ruling that will allow any employer to be exempt from being mandated to offer contraception within their health care plans at no cost to employees, if said employer claims a moral or religious objection to the mandate.
Meanwhile, the Wall Street Journal reported on Saturday that President Trump plans to sign an executive order this week that would aim to lower the cost of health care premiums by making changes to regulations that were put in place by former President Barack Obama and the ACA.
Since the start of Trump's tenure in the White House, there has been no shortage of reports that detail how his administration has been altering Obamacare as Congress tried to repeal the law.
An HHS spokesperson told Politico last month,
The Trump administration is working tirelessly to get Washington out of the way, bring down the cost of coverage, expand health care choices and improve quality.
The bottomline: The president does have means to make major changes to health care policy by using the power of the pen and without having to rally a single vote in Congress.
There is an obvious caveat, though. Policy changes that are achieved through the power of the pen are vulnerable to being scrapped by the next president, as opposed to policy changes that are cemented in law.
Because of this, a program like DACA, which former President Obama created via executive order, was fairly easy to scrap for President Trump. Meanwhile, Obamacare, which made into law by via a long-term push by Democrats in Congress, has proven difficult for Republicans to repeal.
Trump's tweet about health care comes a day after reporting from Politico detailed how Republicans in Congress were privately admitting defeat on repealing Obamacare.
The day before, on Sunday, Axios reported that Trump's ongoing feud with Republicans in the Senate has no end in sight. Earlier that same day, Trump engaged in a contentious exchange with Republican senator Bob Corker (TN), who called the White House a "day care center" after the president criticized the senator on Twitter.
By the looks of Trump's tweet on Tuesday morning, the tensions between the president and his fellow party members in Congress does indeed show no sign of stopping soon.
One way to tell: the coming changes to health care policy that Trump might try to achieve, without the help of Congress.