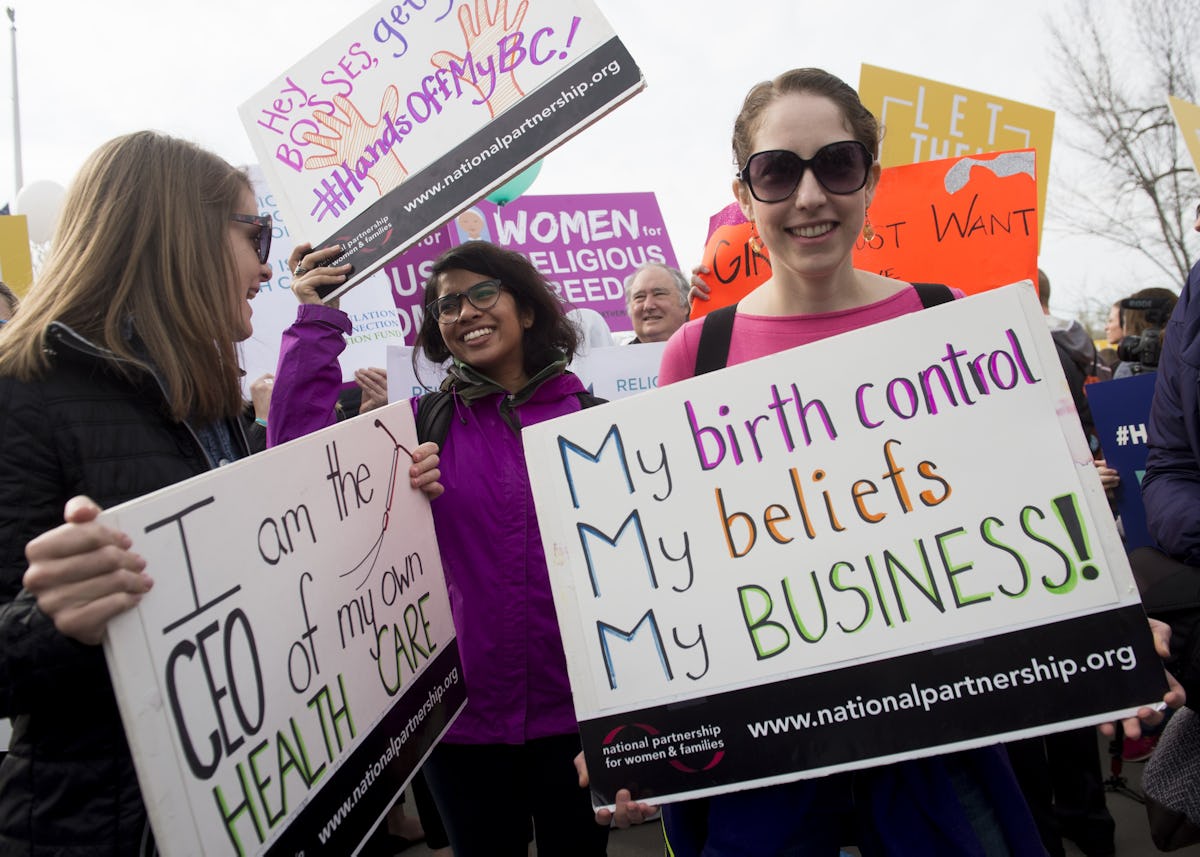 Trump's Birth Control Rule Is Taking Effect Immediately, So It's Up To Bosses To Keep Coverage
SAUL LOEB/AFP/Getty Images
On Friday, Oct. 6, President Donald Trump's administration announced a change in how it will administer Affordable Care Act (ACA, aka Obamacare) coverage. The change will allow any employer, except companies that are publicly traded, to deny employees coverage of birth control on the basis of a moral or religious objection, whereas Obamacare previously mandated all employers to include the costs of contraception within their health care packages. Trump's birth control rule could effect millions, depending on their employer's decision.
The administration wrote within the new rule, per Politico,
The United States has a long history of providing conscience protections in the regulation of health care for entities and individuals with objections based on religious beliefs or moral convictions. These interim final rules expand exemptions to protect religious beliefs for certain entities and individuals whose health plans are subject to a mandate of contraceptive coverage through guidance issued pursuant to the Patient Protection and Affordable Care Act.
On one side of the debate over whether such an exemption should exist are, among others, religious groups that say the Obamacare mandate infringed upon their religious freedom, essentially forcing them to endorse a practice they deem to be immoral (i.e. the use of contraception).
On the other side of the debate are groups who argue that the administration's new rule allows women to be wrongfully denied a right to a serious healthcare need because of the belief of an employer.
A statement from Cecile Richards, the president of the Planned Parenthood Federation of America, read,
The Trump administration just took direct aim at birth control coverage for 62 million women. This is an unacceptable attack on basic health care that the vast majority of women rely on. With this rule in place, any employer could decide that their employees no longer have health insurance coverage for birth control. We're talking about a fundamental right -- to be able to decide whether and when you want to have children.
For the latter groups, the focus now shifts to whether or not the new ruling can be stopped.
There are a number of organizations that are about to find out. On Friday, after the Trump administration announced its new ruling, the American Civil Liberties Union (ACLU) announced that it would be challenging the ruling via lawsuit.
A statement from the ACLU read,
In the lawsuit, the ACLU argues that the interim rules violate the Establishment Clause and the Equal Protection Clause of the Constitution by authorizing and promoting religiously motivated and other discrimination against women seeking reproductive health care.
In addition to the ACLU, both the National Women's Law Center, the Center for Reproductive Rights, and Americans United also announced that they will wage a legal battle against the Trump administration.
Meanwhile, state attorneys general who are a part of the Democratic party appear prepared to take legal action against the ruling as well.
Virginia Attorney General Mark Herring said in a statement,
Today's decision by the Trump administration puts healthcare decisions in the hands of a woman's employer, which is so demeaning, discriminatory, and dangerous that it's hard to put it into words. All women should have the freedom to make their own healthcare decisions, especially when it comes to something as personal as contraception and reproductive health.
Herring added,
We have been anticipating this awful idea and have already begun working with other states to evaluate any legal response that may be appropriate to protect our citizens' private decisions and access to affordable healthcare.
The Trump administration issued the rule change in two parts, one that outlined how employers can apply for an exemption based on religious beliefs and the other based on how an exemption can be claimed based on morality.
During a press call, Brigitte Amiri, a senior staff attorney at the ACLU, said the organization will challenge Trump's ruling as a violation of the separation of church and state and as discriminatory against women. You can learn more about helping the groups that are challenging the rule change here.
Editor's note: This post has been updated to include Americans United.