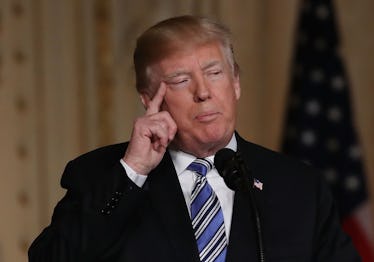 Trump Has Not Responded To The Waffle House Shooting & People Are Calling Him Out
Joe Raedle/Getty Images News/Getty Images
In the wake of a shooting that saw four people killed at a Waffle House restaurant in Tennessee, President Donald Trump has been silent on the subject. That President Trump's response to the Waffle House shooting has been nonexistent has attracted criticism. This is especially true compared to how Trump has responded to other attacks. Elite Daily reached out to the White House for comment, but did not hear back at time of publication.
One of the notable critics was CNN's Don Lemon. On the Monday, April 23, broadcast of CNN Tonight, Lemon closed a segment by saying,
It would be nice if [Trump] tweeted about the four people who lost their lives in the Waffle House, the four black people who lost their lives, and the black hero from that, but not unless it's a Muslim does he tweet about something like that.
The implicit charge in Lemon's statement was clear: Donald Trump exhibits an aversion to making public statements of sympathy when it concerns tragedies that involved either black victims or white suspects.
Not only was Lemon's charge clear, but so was the basis of his argument. There have been no shortage of examples in which President Trump has been noted for his silence or lack of comment in similar cases. For instance, in March, when a serial bomber appeared to be targeting communities of color in the Austin, Texas area, the Washington Post's Eugene Scott was among others who noted that President Trump had refrained from commenting on that specific case, too.
And in August 2017, the president was pilloried by both liberals and conservatives for insisting upon equivocating between a group of white supremacists who organized a rally in Charlottesville — which resulted in the death of a woman — and a group who attended to rally to counter protest. At the time, Florida Sen. Marco Rubio tweeted,
Mr. President, you can't allow #WhiteSupremacists to share only part of blame.They support idea which cost nation & world so much pain ... The #WhiteSupremacy groups will see being assigned only 50% of blame as a win.We can not allow this old evil to be resurrected.
And now, after the shooting in Tennessee, similar criticisms are being made. On Monday, April 23, the New York Daily News took a swipe at the president. "This morning [President Trump] took time to complain about Democrats, NAFTA and immigration," a tweet from the paper's official account read. "There have been zero tweets about the #WaffleHouse victims or the courageous black man, James Shaw, Jr., whose heroism may have prevented a further loss of life."
There were others who made the same critique as Lemon.
"If a Mexican, a Muslim or an African-American had been arrested and released by the Secret Service and later killed 4 people in Tennessee, Donald Trump would be tweeting about it night and day. His silence on the Waffle House shooting speaks of his racism," tweeted CNN commentator Keith Boykin, who worked as a White House aide under former President Bill Clinton.
To be clear, there are plenty of examples in which Trump has reacted quickly to tragedies that involve suspects who are Muslim or those that predominantly involve white victims, often in ways that echo key tenants of his presidential campaign. After an attack in New York City led to the deaths of eight people, for instance, Trump tweeted, "The United States will be immediately implementing much tougher Extreme Vetting Procedures. The safety of our citizens comes first!"
Over an hour later, he added, "NYC terrorist was happy as he asked to hang ISIS flag in his hospital room. He killed 8 people, badly injured 12. SHOULD GET DEATH PENALTY!" The next morning, he tweeted much of the same: "There is also something appropriate about keeping him in the home of the horrible crime he committed. Should move fast. DEATH PENALTY!"
That the president appears to comment so aggressively and criticize certain suspects as monsters has no doubt led to a repeated criticism resurfacing time and again: that he makes those comments not so much because of monstrous acts committed, but because of who's committing the acts and what they look like.