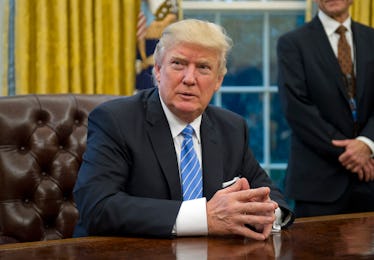 Trump Had A Surprisingly Measured Response To Justice Kennedy's SCOTUS Retirement
Pool/Getty Images News/Getty Images
Every time something wild happens in the world of politics, people all wonder: what will President Donald Trump say? Will he shoot his mouth off? (It's happened.) Will he settle down with a statement? Well this time, it looks like the latter, since Trump's response to Justice Kennedy's retirement was surprisingly measured. Hey, it has to happen sometimes.
On Wednesday, June 27, Supreme Court Justice Anthony Kennedy announced he was retiring from his role in the country's highest court, clearing the way for Trump to nominate his second justice to the Supreme Court. In his resignation letter, Kennedy said that it was "the highest of honors" to serve on the court and announced that his resignation would be effective the last day of July.
And though the president is known for — often — making things all about himself, he managed to keep it relatively tasteful in his statement on Wednesday afternoon. "He is a man that I've known for a long time, and a man that I've respected for a long time, who's been a great justice of the Supreme Court," Trump said.
Trump added that Kennedy had "displayed great vision," saying,
He's displayed tremendous vision and tremendous heart. But he will be retiring. And we will begin our search for a new justice of the United States Supreme Court that will begin immediately. Hopefully we are going to pick somebody who will be as outstanding. I just want to thank Justice Kennedy for the years of tremendous service. He's a very spectacular man. I know that he will be around hopefully for a long time to advise, and I believe he's going to be teaching and doing other things. So thank you to Justice Kennedy.
OK, so he perhaps appeared to forget Kennedy's last name for a second there, but it's probably weird for him to be effusively praising someone not named "Trump," so I'll give it a pass.
But Trump has the space to be gracious, I suppose. Kennedy's retirement gives him the space to fill a second vacancy on the Supreme Court, after he nominated Neil Gorsuch in January 2017 to fill the seat vacated by the death of Justice Antonin Scalia in February 2016. Trump's pick of Gorsuch was enormously controversial, since Scalia's seat was vacated during the Obama administration. However, Senate Majority Leader Mitch McConnell blocked President Barack Obama's nomination for the seat, Merrick Garland, for more than 10 months, claiming that the next justice should be nominated by whoever won the 2016 presidential election.
The second vacancy will be even more relevant. While Trump appointed the conservative Gorsuch to replace the famously hardline conservative Scalia, Kennedy is a notorious swing vote who has voted in support of abortion rights and affirmative action. As Trump has promised to appoint judges who would overturn abortion rights case Roe v. Wade, whoever he picks is certain to swing the court significantly to the right, probably for years to come.
Reproductive rights advocacy groups are already coming out against the likelihood of a Trump pick. Ilyse Hogue, the president of NARAL Pro-Choice America, said in a statement obtained by Elite Daily on Wednesday,
Today, Justice Kennedy announced his retirement, and because President Trump will nominate the next Supreme Court Justice, a woman's constitutional right to access legal abortion is in dire, immediate danger — along with the fundamental rights of all Americans. ... Our country faces a moment of deep crisis—a crisis of rights, of values, and of leadership. The deeply-divided decisions from the Supreme Court this week are a clear warning that our most cherished values are in jeopardy, and now hang in the balance. Women will not go back to the days when abortion was illegal in this country.
So basically, Trump has everything he wants. Of course he can afford to let the focus rest on Kennedy for a moment. I can promise, the spotlight will be back on Trump soon enough.