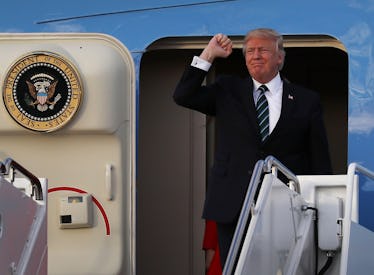 Donald Trump's Resort Is Making Money Off Of The Secret Service, Report Says
Joe Raedle/Getty Images News/Getty Images
Long suspected, now confirmed: the Secret Service has been paying to stay at Trump properties with taxpayer money, and President Donald Trump is likely making money from his Mar-a-Lago visits. CNN reported on Oct. 12, that the Secret Service paid Mar-a-Lago — dubbed by the president the "Winter White House" — $63,700 between February and April. For context, the median household income in the United States is $59,039, per Business Insider. The president spent 25 full or partial days at Mar-a-Lago between Feb. 3 and April 16.
According to the report, the purposes of these expenses, found in more than a dozen invoices and forms, were not spelled out, and it's not clear whether or not Mar-a-Lago received additional money during that time on top of the $63,700 CNN found.
To boot, those payments are only a fraction of the total costs the Secret Service incurred in South Florida during that time period. They also paid for other hotels, car rentals, and "event services."
Richard Painter, the former White House ethics lawyer for President George W. Bush, told CNN,
The president risks violating the domestic emoluments clause [which bars a president from accepting gifts or payments not related to his government paycheck] if his company is making money off of the Secret Service. To avoid that, Mar-a-Lago should either charge Secret Service a rate federal employees are authorized to pay for a hotel room under ordinary circumstances or not charge at all.
Though Trump placed his businesses in a trust before he became president, he refused to divest his holdings. He was extensively criticized for opting for a trust instead of fully divesting from his businesses, because he stands to profit from his businesses at the end of his tenure.
Further, ProPublica reported in August that Trump's legal team covertly changed the terms of his trust, allowing him to pull money from it at any time — which means that he can profit from his businesses right now without disclosing so to the American public. That is an enormous conflict of interest and makes CNN's report about the Mar-a-Lago charges even more troubling.
And Mar-a-Lago isn't the only Trump property that is charging the federal government to use its facilities.
According to a Wall Street Journal report in July, the government had agreed to a $2.39 million 18-month lease for roughly 3,500 square feet at Trump Tower, beginning in April. They agreed to pay $180,000 for the last 20 days of April 2017, and $130,000 per month after.
Interestingly, shortly after the WSJ's report, The Washington Post reported that the Secret Service had vacated Trump Tower in a dispute over lease terms.
But Trump's businesses — which, again, he currently, directly profits from — aren't only eliciting ethics concerns for charging the federal government to protect the Trump family for their extensive, even unprecedented travels.
According to financial disclosure forms, Trump's campaign and subsequent election was something of a windfall to his businesses. Politico reports that Mar-a-Lago, for instance, made $37 million in revenue — up $7 million from the previous disclosure he filed. The Art of the Deal, Trump's decades-old ghostwritten book, went from bringing in $100,000 in royalties to $1 million.
Mar-a-Lago doubled its annual membership fee to $200,000 shortly before the president's inauguration, and Trump's Bedminster, NJ golf club — where he has spent extensive time, including a prolonged "working vacation" in August — has a membership fee in excess of $300,000.
These clubs have since become a regular haunt for lobbyists who wish to sidle up to the president. So not only is Trump able to pocket the membership fees and gain free advertising every time he visits, there is a very real possibility that the people who drop the six figures and interface with him there could influence policy that affects the entire country.
So, though the $63,700 seems like a drop in the bucket compared to the overall Secret Service budget, that number is one small thread in a tangle of the White House's many ethical quandaries.
While it turns out that we're all literally paying for Trump's weekend sojourns, it looks like we're all really paying for them, as well.