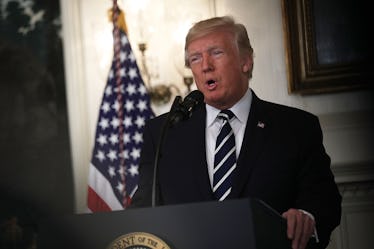 This Is What Trump's Done So Far On Gun Control As President
Alex Wong/Getty Images News/Getty Images
Americans woke up to horrific news on Monday, Oct. 2, about a mass shooting in Las Vegas, Nevada, that claimed the lives of over 50 people and injured more than 500 others the night before. What was supposed to be an evening of country music ended in devastation when a gunman took aim at concertgoers from the 32nd floor of his Mandalay Bay hotel room. As news continues to unfold, many are beginning to question President Donald Trump's gun control plans and how the country will move forward after another senseless tragedy.
Though topics such as the ongoing clash with North Korea and our hurricane relief efforts in Puerto Rico have been front and center, gun control is definitely not something the country can push aside. Trump has made his opinions known, though at times they have been conflicting. When campaigning for the presidency, Trump spoke in favor of the National Rifle Association (NRA) and holding onto gun rights, according to Newsweek. Early into his presidency, Trump revoked an Obama-era rule that made it more difficult for people with mental illnesses to purchase a gun. A few months after this decision, he said the "eight-year assault" on gun rights came to a "crashing end" with his election during an April speech to the NRA.
This is certainly a change from his past views. After the horrific events at Sandy Hook Elementary School in 2012, Trump was in favor of President Barack Obama's call for tighter gun control, even taking to Twitter to show his support.
The president's current viewpoints also greatly differ from what he wrote in his book, The America We Deserve. The title, now 17 years old, included his belief about a "ban on assault weapons" and a "slightly longer waiting period to purchase a gun," according to Newsweek.
Now — considering this attack in Las Vegas is the deadliest mass shooting America has ever seen — it's time to think about how to stop these attacks from occurring, regardless of politics.
New York Times reporter Nicholas Kristof offered his opinion on how to do so in his latest op-ed, which includes imposing universal background checks and a minimum age of 21 for those who are looking to purchase a firearm, among many other points. Though Kristof believes there is no "magic wand" that will completely eliminate these types of disasters from taking place, he does believe there are ways to work toward a safer nation.
People agree with Kristof's sentiment, and #GunControl has become a trending topic on Twitter.
Now that the gun control debate has been brought up, social media is once again beginning to see both sides of the argument.
Obama's words from several years ago still ring true. In a speech from the White House Briefing Room shortly after the Sandy Hook attack, he said,
As a country, we have been through this too many times. Whether it's an elementary school in Newtown, or a shopping mall in Oregon, or a temple in Wisconsin, or a movie theater in Aurora, or a street corner in Chicago — these neighborhoods are our neighborhoods, and these children are our children. And we're going to have to come together and take meaningful action to prevent more tragedies like this, regardless of the politics.
People in this country might have different points of view, but that doesn't mean they cannot come together — in fact, they must, or these types of horrific incidents are going to continue to happen.
Our condolences go out to those who have been affected by this violent act in Las Vegas. If you're looking for ways to help the victims, click here.