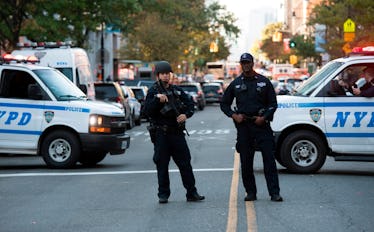 People Are Pointing Out The Hypocrisy Between Trump's Statements On NYC & Las Vegas
DON EMMERT/AFP/Getty Images
A day after a gunman killed 58 people and injured over 500 more during a shooting in Las Vegas in early October, White House Press Secretary Sarah Huckabee Sanders told reporters it would be "premature" to discuss policy changes aimed at preventing such events. Less than 24 hours after an attack claimed eight lives in Manhattan, however, President Donald Trump has suggested "MUCH tougher" policy changes on immigration and singled out a specific politician for blame. That the timing and tone of Trump's comments on the New York City attack differ from the White House's response to the attack in Las Vegas has was pointed out by a number of media members and the public.
CNN political reporter Dan Merica noted on Twitter, "Important story today: The [White House] didn't want to talk gun policy after Las Vegas. Today, after the NYC attack, Trump is all about policy."
Daily Beast politics editor Sam Stein made a similar note.
"Days after Las Vegas, [the White House] said it was "too soon" to talk legislative response," Stein wrote. "Morning after NYC, Trump has pinpointed immigration overhaul."
The policies that Trump has targeted were outlined in a series of tweets that essentially served as a response to the events in Manhattan on Tuesday, Oct. 31. Within the tweets, the president said he ordered the Department of Homeland Security (DHS) to "step up" extreme immigration vetting measures. Trump also asserted that the Uzbek suspect behind the attack in New York — which injured at least 11 people in addition to the eight dead, according to the New York Times — immigrated to the America via a program called the Diversity Visa Lottery.
Trump also singled out Senate Minority Leader Chuck Schumer (D-NY), calling the program "a Chuck Schumer beauty." The president wrote, "We are fighting hard for Merit Based immigration, no more Democrat Lottery Systems. We must get MUCH tougher (and smarter)."
According to the Washington Post, it is unconfirmed whether the Manhattan terror suspect actually came through the Diversity Visa Lottery. The Post also noted that while Schumer was instrumental in drafting the Diversity Visa Lottery over 25 years ago — when the policy received a seal of approval from Republican president George H.W. Bush — the New York Democrat made an effort to do away with the program as part of the larger "Gang of Eight" immigration bill that failed to pass through Congress in 2013.
Republican senator Jeff Flake (AZ), most notable for his recent criticisms of President Trump, also pointed out Schumer's effort. Flake wrote on Twitter, "actually, the Gang of 8, including [Sen. Schumer], did away with the Diversity Visa Program as part of broader reforms. I know, I was there."
What The White House Said After Las Vegas
A day after a gunman open fired on concert goers in Las Vegas, while stationed in hotel room over 30 stories above ground, the White House press secretary told reporters,
There's a time and place for a political debate but now is the time to unite as a country. There's currently an open and ongoing law enforcement investigation, a motive has yet to be determined and it would be premature for us to discuss policy when we don't know all the facts or what took place last night.
On the same day, when asked by reporters for his thoughts on the Las Vegas attack, President Trump said, "we'll be talking about gun laws as time goes by."
In contrast to the White House's tone on the shooting in Vegas, Trump has swiftly prompted focus on specific immigrations policies, while also singling out the Democratic Senate leader, in response to an attack that occurred less than 24 hours prior.