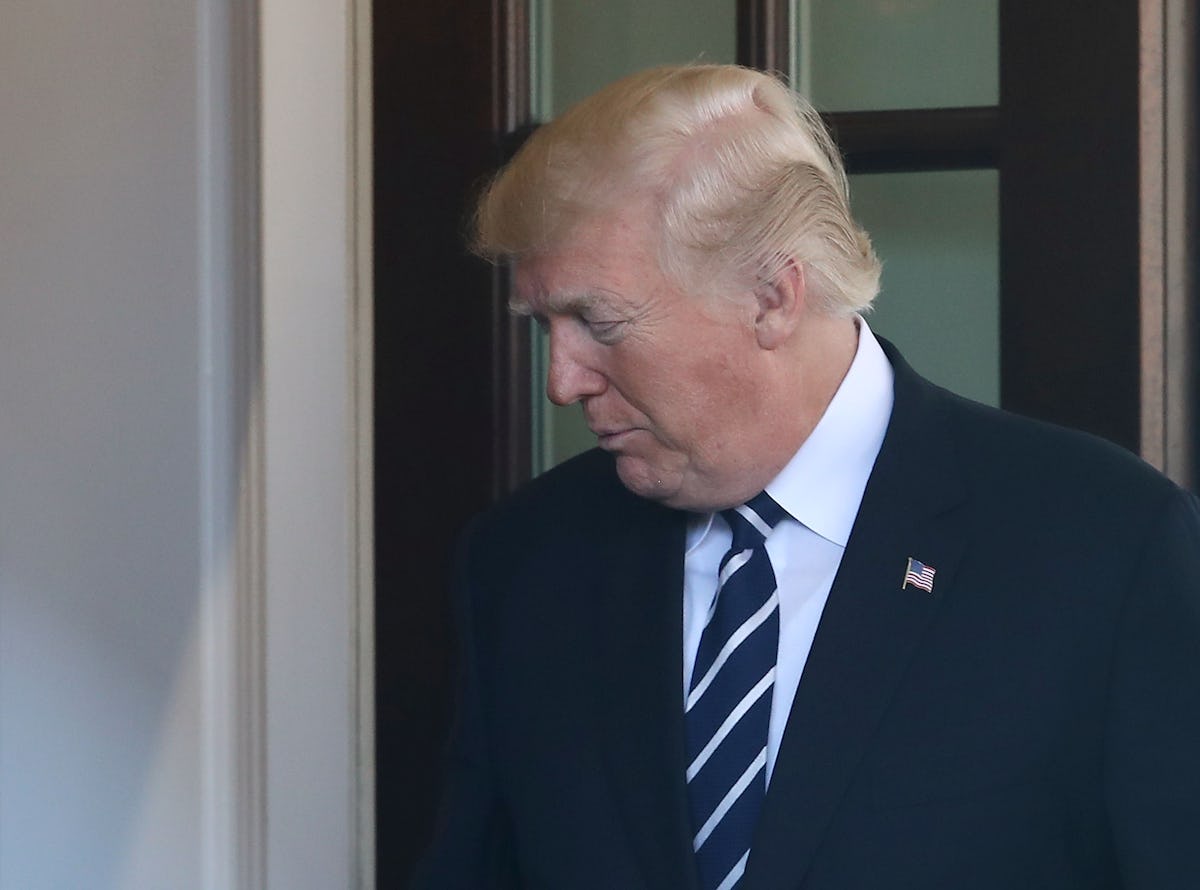 Donald Trump Apparently Thinks A Government Shutdown Would Be Good For Him, So That's Cool
Mark Wilson/Getty Images News/Getty Images
While Republicans in Congress try develop a strategy to avoid a government shutdown, one report indicates President Donald Trump wouldn't mind that outcome. According to the report, from the Washington Post, Trump thinks a government shutdown would be good for him, and has privately expressed that the shutdown could represent a political win. Trump has also reportedly told people privately that in the event of a shutdown, he would put the blame on Democrats, the Post reported on Thursday, Nov. 30.
The same day, White House Legislative Affairs Director Marc Short pushed back against the idea that Trump wants a shutdown. "He's not advocating for a shutdown in any way," Short told reporters, according to the Post. "We want to make sure our military is funded. We want to make sure our priorities are funded. That's why we invited [Democrats] over to have a conversation about a deal."
The government would enter a shutdown if Democrats and Republicans fail to agree on a spending bill that would set the nation's budget. In the event of a government shutdown, government-run agencies (a national park, for example) would be liable to close down.
The last government shutdown happened in October 2013, lasting for 16 days and resulting in over 800,000 government employees being out of work, per ABC News.
Why Did The Government Shutdown Last Time?
In order to decide a budget, members of Congress and the president need to all come to an agreement of what the nation's money is devoted to.
Coming to an agreement, though, is complicated, given that so many different members of Congress prioritize different things. For example, the last government shutdown resulted when some Republicans wanted to defund the Affordable Care Act (ACA aka Obamacare). Democrats and former President Barack Obama, unsurprisingly, weren't going to sign up for a budget deal that didn't fund Obamacare. Thus, a stare-down ensued, until Congress agreed on a new budget that ultimately included funding for the ACA.
The current deadline for an agreement to happen is next Friday, December 8. Within the Washington Post's report about President Trump's thoughts on a shutdown, it's said that the president wants to secure funding for a border wall. Democrats, of course, don't want to sign up for a deal that would fund a wall they vehemently oppose.
That disagreement is one difference that could lead to a shutdown, if the president stuck to his guns on a border wall. In the past, Trump has said that he is willing to.
"Now the obstructionist Democrats would like us not to do it. But believe me, if we have to close down our government, we're building that wall," he said during a rally in August. "Let me be very clear to Democrats in Congress who oppose a border wall and stand in the way of border security: You are putting all of America's safety at risk. You're doing that. You're doing that."
A month later, however, Trump reached his infamous deal with Democratic leaders Nancy Pelosi and Chuck Schumer, agreeing to work on a permanent fix for DACA, while telling Schumer and Pelosi that the fix would not be contingent upon securing border wall funding.
At the time, Democrats and Republican leaders Paul Ryan and Mitch McConnell had to negotiation on the budget. Trump's deal resulted in a three month extension of the previous budget, which led to the Dec. 8 deadline.
Now that the deadline is here, the Washington Post reports that Trump has contemplated how not coming to a deal this time around might be good for him, even if it results in a government shutdown.