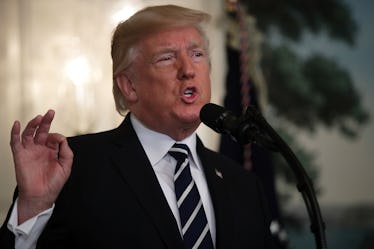 People Are Calling Out Trump For Supporting Obama's Gun Control Call After Sandy Hook
Alex Wong/Getty Images News/Getty Images
After a shooting in Las Vegas on Sunday, Oct. 1 claimed the lives of at least 50 and injured over 500 more, President Donald Trump made statements on social media and gave a formal speech about the incident. The speech had both its fans and critics. But many people are calling Trump out for supporting Obama's gun control position following a speech he gave after the Sandy Hook shooting in 2012.
Trump's speech on Monday focused on praising those who helped the victims, praying for those who lost their lives, and calling for unity. The remarks were filled with religious sentiments, but completely devoid of any mention of legislation or actions to be taken to avoid future shootings. While many people criticized Trump's silence on this point, still others are pointing to the fact that his position seems to have done a complete 180 over the years.
In an article posted Monday, Newsweek pointed out the discrepancy between Trump's reactions to Sunday's shooting and his previous sentiments about mass shootings. For example, Trump's praised the Sandy Hook speech given by former President Barack Obama in which the latter called for tighter gun control laws.
In another article from May 2016, Newsweek also pointed out that Trump's own words in his 2000 book The America We Deserve stand in contrast to his more recent leanings. He wrote in his book,
I generally oppose gun control, but I support the ban on assault weapons and I also support a slightly longer waiting period to purchase a gun.
This was one of many articles since before Trump was even elected that highlighted his contradictory statements on guns. Politico pointed out in May 2016 that Trump's platform flew in the face of the above statements he made in his book, telling a crowd in South Carolina in 2016:
I am the strongest person running in favor of the Second Amendment.
People on social media were sharing the contradictory statements left and right.
Numerous users shared the Newsweek articles on Monday in the wake of the Las Vegas shooting.
ThinkProgress also pointed out back in May 2016 that Trump's positions on the issue were cause for concern among staunch guns rights advocates. The article quotes Larry Pratt, Executive Director of the Gun Owners of America, as saying,
We'd like very much for Mr. Trump to find some way to walk back what he has written in his book about wanting to ban semi-automatic rifles and expand the background check.
CNN also explored the extreme flip-flop Trump has done in recent years in his positions about the role gun restrictions should play in the country.
Some users pointed out that, back in April, Trump spoke at a conference for the National Rifle Association (NRA), promising that they had a "true friend and companion" in the White House and that he would ensure their Second Amendment rights. The NRA, according to the Washington Post, backed Trump financially and otherwise during the 2016 election.
Another user pointed to Trump's inaugural promise -- to end the "carnage" of American citizens -- and what his response was to Sunday's shooting.
Others also called out Trump's contradictory sentiments on other mass casualties, both on American soil and abroad. Whereas other incidents, such as the subway bombing in London, provoked a Twitter rant about how to combat terrorism, the president did not label Sunday's event terrorism or reference measures to be taken to prevent future similar tragedies.
More obvious than this was the president's silence on gun control, and his complete omission of even the word "guns" from his speech about the Las Vegas attack — a serious departure from his praise of Obama's 2012 speech after Sandy Hook.
There are dozens of tweets dating back several years that show Trump's support for the Second Amendment, a sharp contrast from his previous statements, such as the one in his book. Back in 2013, Trump tweeted out his position stating that Americans' priority should not be gun control:
In 2012, Trump called for the Fort Hood shooting to be labeled as a terrorist incident. Assumedly, he's referrring to a 2009 shooting by a U.S. army major that was not considered by the Pentagon to be a terrorist attack.
Finally, in a Facebook post in 2016, Trump stated the following:
Last night's horrific execution-style shootings of 12 Dallas law enforcement officers – five of whom were killed and seven wounded- is an attack on our country. It is a coordinated, premeditated assault on the men and women who keep us safe.
... The senseless, tragic deaths of two people in Louisiana and Minnesota reminds us how much more needs to be done.
... Our nation has become too divided. Too many Americans feel like they've lost hope. Crime is harming too many citizens. Racial tensions have gotten worse, not better. This isn't the American Dream we all want for our children.
This is a time, perhaps more than ever, for strong leadership, love and compassion. We will pull through these tragedies.
His response following Sunday's shooting in Las Vegas, on the other hand, has not called for any kind of action to be taken.