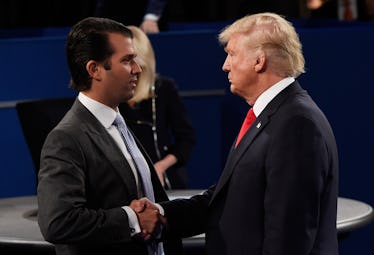 The Transcripts From Trump Jr.'s Senate Testimony Were Released & This Is What We Learned
Pool/Getty Images News/Getty Images
On Wednesday, May 16, the Senate Judiciary Committee over 2,000 pages of transcripts that feature Donald Trump Jr.'s Senate testimony about a June 2016 meeting at Trump Tower in Manhattan. The meeting was attended by Trump Jr., his brother-in-law Jared Kushner, and then-Trump campaign chairman Paul Manafort, who all met with Russian lawyer Natalia Veselnitskaya and a few associates, after Trump Jr. was enticed with damaging information about Hillary Clinton. After The New York Times published several reports on the meeting — which had previously been undisclosed — Trump Jr. was summoned to Congress to speak before the judiciary committee, which has been conducting its a Russia investigation separate from special counsel Robert Mueller's.
Among other things, the transcript shows that Trump Jr. explained why he wouldn't tell his father, who at the time was candidate Trump and not the president, about the meeting before it happened.
"I wouldn't bring him anything that's unsubstantiated, especially from a guy like Rob, before I knew what it was actually about myself," Trump Jr. testified, according to the transcript.
Rob Goldstone is a British publicist who served as the middle man to set up the Trump Tower meeting. In emails obtained by The New York Times, and release by Trump Jr. shortly before The Times published them, Goldstone offered "official documents and information that would incriminate Hillary and her dealings with Russian and would be very useful to your father."
Goldstone also added that, "This is obviously very high level and sensitive information but is part of Russia and its government's support for Mr. Trump."
The transcript released by the Senate Judiciary Committee features testimony from Goldstone, too. During his testimony, Goldstone said no noteworthy information about Clinton was shared.
"Well, again, I don't know what would be deemed damaging, but I didn't hear anything that I would deem to be damaging," the British publicist said, according to the transcript. "And I didn't see anybody react in a way that I believed people would react if they heard damaging information."
The meeting with Trump Jr. was set up at the request of Goldstone's client, Emin Agaralov, a 38-year-old Russian musician. Agaralov's father is Aras Agaralov, a Moscow-based billionaire real estate developer.
Donald Trump Jr.'s testimony took place in September 2017. The Senate Judiciary Committee also met four other people who were present at the Trump Tower meeting. After the release of the testimony transcript, Trump Jr. said in a statement, "The public can now see that for over five hours I answered every question asked and was candid and forthright with the Committee."
The meeting at Trump Tower between Trump Jr. and Veselnitskaya took place on June 9, 2016. At the time, Donald Trump was the presumptive presidential nominee for the Republican party.
The Senate transcript reveal how the five attendees interviewed by Congress recall how the meeting unfolded. At one point, for example, Goldstone says that the meeting appeared to agitate Jared Kushner.
Goldstone told the Senate Judiciary Committee,
I was really paying no attention until maybe somebody reacted. After a few minutes of this labored presentation, Jared Kushner, who is sitting next to me, appeared somewhat agitated by this and said, 'I really have no idea what you're talking about. Could you please focus a bit more and maybe just start again?' And I recall that she began the presentation exactly where she had begun it last time, almost word for word, which seemed, by his body language, to infuriate him even more.
Meanwhile, Ike Kaveladze, a translator who attended the meeting told Congress that he called Emin Agaralov afterwards to tell him "That it was complete loss of time, and it was useless meeting."
Whether or not it was deemed useless to those who attended, it's clear that information about the meeting is deemed useful to those investigating Russian efforts to impact American elections.