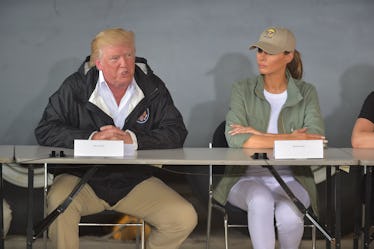 Trump Jokes About Puerto Rico During His Visit & People Are Shaking Their Heads
MANDEL NGAN/AFP/Getty Images
During his first visit to the island since it suffered a direct hit from Hurricane Maria on Sept. 20, President Donald Trump joked about Puerto Rico's effect on the U.S. financial picture. The joke came during a press conference at which a jovial Trump discussed the federal and local response to the high-powered storm's impact on the U.S. territory, where a large percentage of its 3 million residents has been left without power. Sitting before the island's leaders — along with military personnel leading relief efforts — the president said,
I hate to tell you, Puerto Rico, but you've thrown our budget a little out of whack, because we've spent a lot of money on Puerto Rico and that's fine. That's fine because we've saved a lot of lives.
After a few laughs, Trump then turned to Puerto Rico's Gov. Ricardo Rosselló and praised the island for a lack of mass casualties. Trump said,
Every death is a horror but if you look at a major catastrophe like Katrina and the hundreds and hundreds of people who died ... You can be very proud, only sixteen instead of thousands in Katrina.
Footage from Trump's press conference on Tuesday in Puerto Rico can be seen in the video below.
During the televised address, the president also reviewed the performance of the federal government in Puerto Rico, where multiple reports have described the island as being in a state of humanitarian crisis.
Trump said,
In Texas and in Florida, we get an A+. And I'll tell you what, I think we've done just as good in Puerto Rico ... The first responders, the military, FEMA — they have done an incredible job in Puerto Rico. And whether it's her or anybody else they're all starting to say it.
Trump's mention of "her" was a reference to Carmen Yulín Cruz, the mayor of San Juan, Puerto Rico's capital.
Trump met and shook hands with the mayor before speaking during his press conference.
The weekend before Trump's visit to Puerto Rico, the president criticized Cruz in a series of Saturday morning tweets, pointing out "poor leadership ability" among other remarks.
The president also implied that both the mayor and "others in Puerto Rico" were asking for too much help while not doing enough to solve problems on their own.
They want everything to be done for them when it should be a community effort. 10,000 Federal workers now on Island doing a fantastic job.
Days earlier, the president similarly discussed Puerto Rico's recovery efforts in a series of Twitter posts. On that occasion, he highlighted the island's debt.
Texas & Florida are doing great but Puerto Rico, which was already suffering from broken infrastructure & massive debt, is in deep trouble...
...It's [sic] old electrical grid, which was in terrible shape, was devastated. Much of the Island was destroyed, with billions of dollars...
...owed to Wall Street and the banks which, sadly, must be dealt with. Food, water and medical are top priorities - and doing well.
After meeting with response leaders, the president also met victims of Hurricane Maria's impact, and provided reassurances to people that they are going to receive help they need.
Your governor and your mayor have done really a fantastic job. We're going to help you out. Have a good time.
President Trump's visit to Puerto Rico on Tuesday was scheduled to last just under six hours. He is expected to travel to Las Vegas on Wednesday, where a mass shooting resulted in at least 59 deaths and more than 500 people were injured on Sunday night.