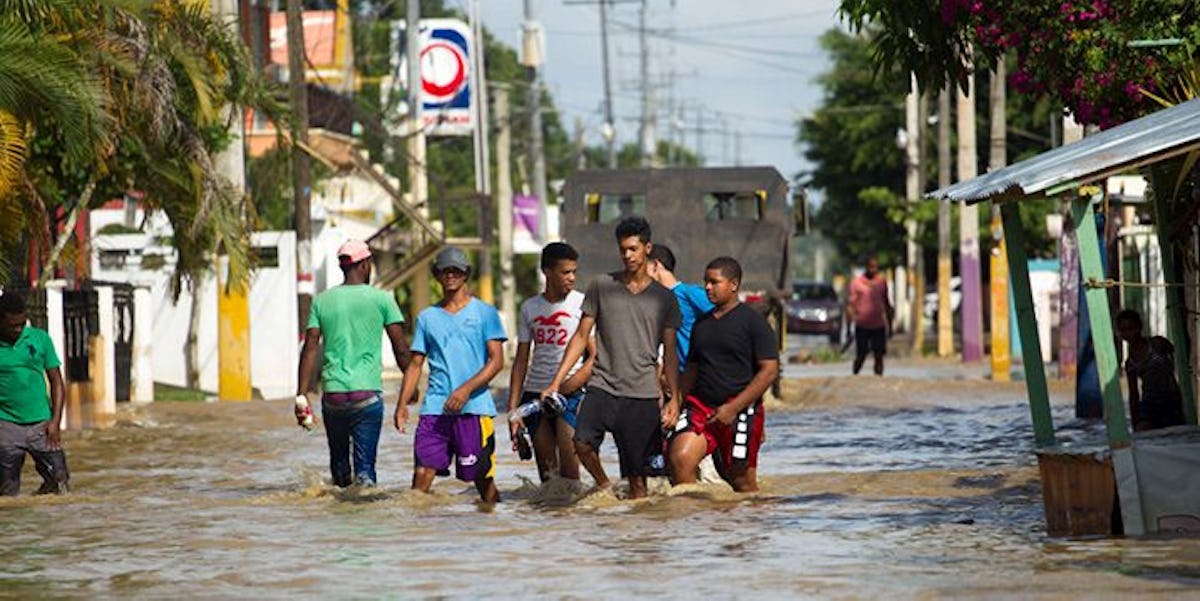 Trump Finally Tweeted About Puerto Rico But People Are Pissed About What He Said
ERIKA SANTELICES/AFP/Getty Images
On Monday night, Sept. 25, President Donald Trump used his Twitter account to speak about Puerto Rico, the U.S. territory where a population of nearly 3.5 million people is facing months without power as a result of Hurricanes Maria and Irma. The president compared recovery efforts on the island to those in Texas and Florida, while also highlighting Puerto Rico's "massive debt." Here's what Trump's tweets about Puerto Rico said:
Texas & Florida are doing great but Puerto Rico, which was already suffering from broken infrastructure & massive debt, is in deep trouble... ...It's [sic] old electrical grid, which was in terrible shape, was devastated. Much of the Island was destroyed, with billions of dollars... ...owed to Wall Street and the banks which, sadly, must be dealt with. Food, water and medical are top priorities - and doing well. #FEMA
The president's thoughts on Twitter, which were expressed in a series of three separate tweets, drew criticism from a number of different sources. One reporter, Danny Rivero of Fusion, noted,
For some reason it feels icky to mention the Wall Street debt owed by the people who's lives you are charged with saving.
Another reporter, Steven Dennis of Bloomberg, added,
I haven't seen a single news report saying food, water and medical care on Puerto Rico "doing well."
Trump's mention of Puerto Rico's debt was also addressed by Carmen Yulín Cruz, the mayor of San Juan, Puerto Rico's capital. During a phone interview on CNN's New Day, Mayor Cruz said,
These are two different topics. You don't put debt above people, you put people above debt.
After the interview aired, President Trump thanked the mayor for "kind words" and said food and water were on their way to the island.
Here are the president's tweets from the night before:
The criticism Trump received for pointing out the island's debt at a time that it's experiencing a humanitarian crisis is compounded by the Puerto Rico-related criticism the president had been receiving before he sent those tweets on Monday night.
New York Times reporter Maggie Haberman tweeted,
Multiple POTUS tweets this weekend about NFL and "rocket man." Puerto Rico is enduring an enormous crisis
CNN's Inside Politics also highlighted the disparity between the amount of attention given to the NFL by the president's Twitter account compared to other major issues:
The Washington Post, meanwhile, ran a headline that read: "Trump ignores Puerto Rico's devastation to tweet about the NFL."
The gap between the frequency of Trump's comments about NFL players protests in sports and comments (or lack thereof) about hurricane victims in Puerto Rico gave way to the perception that the president was more focused on stoking a culture war than helping the millions of Americans in need.
There was an even more damning wave of criticism that accused the Trump administration of not caring much about Puerto's Rico's crisis at all. Hillary Clinton told one radio show,
I'm not sure he knows that Puerto Ricans are American citizens.
During an appearance on MSNBC on Monday night, the former secretary of state added,
He doesn't think that has any political relevance and it's certainly not personally important. He clearly doesn't want to talk about Puerto Rico, more than 3.5 million American citizens, along with the U.S. Virgin Islands. Not interested, doesn't say a word about it.
An interview with Puerto Rico's Gov. Ricardo Rosello, however, contradicted the perception that the federal government has not been trying hard enough to respond to the island's needs. Gov. Rosello told PBS,
First of all, we are very grateful for the administration. They have responded quickly. The president has been very attentive to the situation, personally calling me several times. FEMA and the FEMA director have been here in Puerto Rico twice. As a matter of fact, they were here with us today, making sure that all the resources in FEMA were working in conjunction with the central government. We have been working together. We have been getting results.
In any event, the president has still drawn criticism for not doing enough to rally sentiment behind concern for Puerto Rico, while also drawing blame to an already sensitive topic: protests in sports.