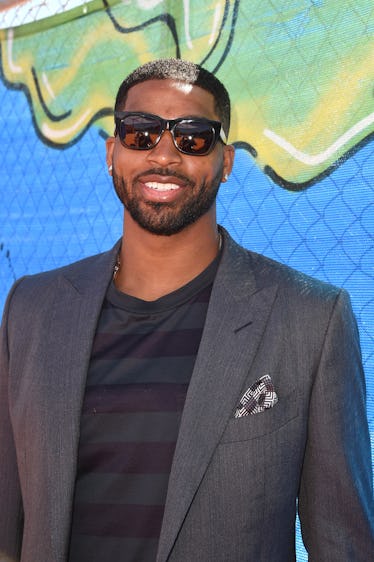 Tristan Thompson Just Posted A Photo With His 2 Kids & They'll Melt Your Heart
Kevin Winter/Getty Images Entertainment/Getty Images
STOP THE PRESS, PEOPLE. Take a deep breath, and get ready for QUITE an update from Tristan Thompson. Thompson's been relatively low-key on social media lately, but that's all changed now, fam. On Friday, June 22, Thompson posted quite possibly the most adorable photo known to man, and I am shooketh. That's right Tristan Thompson's photo with True and Prince will give you ALL the emotional feels. We've been hearing very little from Thompson himself, so this kind of update is actually surprising AF and I don't exactly know how to feel.
If you're unsure about Tristan, believe me, I feel you. After Thompson was caught in a reported cheating scandal back in April after footage released was by The Daily Mail, showing what appeared to be Thompson is kissing another woman who isn't Khloé, I had a lot of thoughts. Elite Daily reached out to Kardashian and Thompson's teams for comment on this report, but did not hear back by the time of publication.
But I also am aware that recently, it seems like Khloé and the entire Kardashian family has reportedly forgiven Tristan Thompson for the alleged scandal, so who am I to be here acting like a judgement queen?
So look, I'm a tad hesitant about the whole situation, but I do know that when children are involved, it definitely puts a lot of things into perspective. Thompson and Kardashian welcomed little True into this world, but Thompson has a son, Prince, from a previous relationship with Jordan Craig, so that's two beautiful little babies that have to be protected at all costs.
I'm not going to lie: When I saw that Tristan Thompson finally posted a picture on Instagram of him with his two little babies, I wanted to be guarded. I wanted to not love it as much as I did. I wanted to be like, oh, that photo is just decent, I guess.
BUT LOOK AT THIS PERFECT PHOTO OF HIM AND HIS CHILDREN:
You cannot tell me there is anything more precious that Thompson's mega-watt smile, Prince's little curly hair, and True's chunky little cheeks. There is literally nothing in this world that I love and cherish more than this photo, and I didn't know that I'd feel this strongly, but here I am.
Babies make me emotional, don't @ me.
It really shouldn't be that much of a surprise to see Thompson so happy in this photo. Back in May, a source told Us Weekly that the basketball star has been an incredible father to his newborn daughter, and has been pretty much crushing the dad game. "Tristan has been an amazing father to True," the source said, noting that Thompson has "really stepped it up."
Ugh. You know when you want to remain emotionless and indifferent to a situation, but you can feel the ice melting from your cold, cold heart? That's sort of how I'm feeling right now, TBH.
And now, with Khloé Kardashian moving back to Los Angeles, we can't be entirely sure if that means that Cleveland native Thompson will be living at her home long-term — though I hope they do whatever is in True's best interest. A source told Entertainment Tonight:
[Tristan] has a home in L.A. too, but the plan is to live together as a family at Khloé's home as they continue to work on their relationship. Everyone is back on board — friends, family, and Khloé have all forgiven him and are giving him this second chance — and so far it's been working for them.
So maybe I'm not exactly sure where I stand on Tristan Thompson, and that's OK. All I know is that I desperately would love more photos of the siblings Prince and True together, please and thank you.