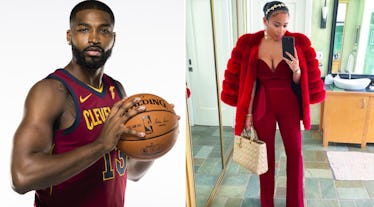 5 Things To Know About Jordan Craig, Tristan Thompson's Ex & Mother Of His Son
Getty Images/Instagram
Khloé has been my favorite Kardashian since, like, forever, so I was beyond excited for her when she finally shared the news back in December that she was expecting a bambino with her boyfriend, NBA star Tristan Thompson. But while this will be the youngest Kardashian sister's first-ever baby, it will be Thompson's second child. The Cleveland Cavalier also has a one-year-old son named Prince Oliver with his former girlfriend. And if you're anything like me, you're now wondering just who is Tristan Thompson's ex?
Her name is Jordan Craig. And much like the Kardashians themselves, the 26-year-old is pretty much a girl boss. In addition to crushing the social media game with 439,000 followers on Instagram, the entrepreneurial mama also loves to post selfies and document both her travel adventures and her designer outfits. She also sells a line of hair extensions and runs an online clothing store called What Jordy Wore, where she offers up items she'd happily put in her own closet.
Is it just me, or does this model mama — who gave birth to Prince in December 2016, three months after Tristan and Khloé officially started dating — sound exactly like the kind of girl Khloe-money would want to be friends with?
I am SO hoping she pops up on some future episode of Keeping Up With The Kardashians! After all, her son and Khloe's future kiddo will share a father and be kind of close in age. But while we wait around and see if that ever pans out, here are a five more things you need to know about Jordan Craig.
1. She is a popular Instagram model.
Like I said before, Craig is a super-popular social media queen. And over on her Instagram feed, you can find her posting tons of gorgeous pics of herself all glammed up in everything from sexy swimwear to some seriously envy-inducing designer duds.
Werk it, Jordan! And check out that boot and bag game, people!
2. She runs a lifestyle blog.
Craig has a website called All Eyes on Jordy C, where she blogs about topics like home decor, travel, parenting, and fashion.
The tagline for her blog is "A Girl with a Mind, A Woman with Attitude & A Lady with Class," although as of press time, it appears to be on hiatus.
3. She once dated Tyga.
OK — has everyone on the West Coast dated Tyga? Because in a weird plot twist, it turns out that not only did Khloé's sister Kylie Jenner date him, and not only did Rob Kardashian's ex Blac Chyna have a kid with him, but Craig was also the rapper's former flame. Say what? There are just way too few degrees of separation here for my comfort level.
And also — aren't there any other single guys in California?
4. She's related to Kevin Hart's wife.
According to Page Six, Craig is the cousin of Eniko Parrish, who is married to — and just had her own baby with! — comedian Kevin Hart. Parrish even threw Craig a baby shower when she was till preggers last year, and later shared her excitement about it on Instagram.
"Congrats to the#Mommy2BeJordyC you're going to be an amazinggggg mommy! (It runs in the family)," she wrote in the caption of her post. "I [can't] wait to finally meet him. blessings to you and your new bundle of joy! xOxO."
So sweet!
5. She's a proud mama.
Shortly after giving birth to Prince in December 2016, Craig began filling up her Twitter feed with heartfelt posts about how happy she was to have a new bundle of joy in her life.
*Feels*
I love the way Jordan stays away from all the drama and seems to focus instead on all the love in her life. Congrats on your little blessing, mama!