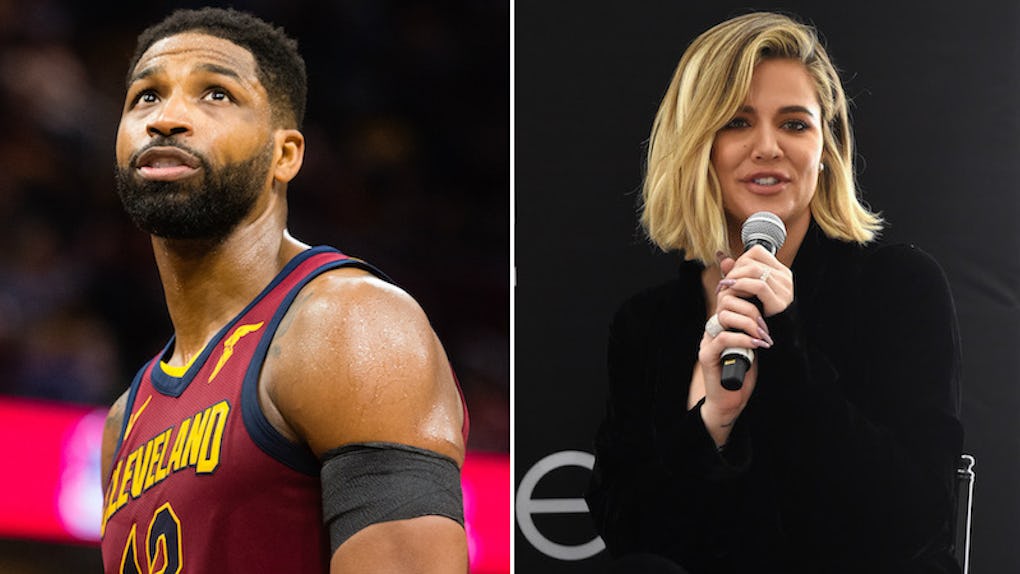 Jason Miller/Getty Images Sport/Getty Images & Jamie McCarthy/Getty Images Entertainment/Getty Images
Tristan Thompson's Instagram Message To Khloe Kardashian Is Actually The Sweetest Ever
I know. This whole Khloé Kardashian and Tristan Thompson thing has me conflicted, too. On one hand, I want whatever Khloé wants, and if that means working things out with her reportedly cheating boyfriend for the betterment of her family, so be it. But on the other, I'm still a little bit like, "You know what? Screw this guy." That's why when they publicly post about each other I'm always a little taken off guard. Take Tristan Thompson's Instagram message to Khloé Kardashian about her clothing line, for example. Like, in theory, it's very cute. But also, DUDE, WHY DID YOU CHEAT ON HER? This is why we can't have nice things! Elite Daily reached out to both Kardashian and Thompson's teams for comment on the cheating rumors but did not hear back by the time of publication.
Thompson shared the video of Khloé on his Instagram story late Monday night, August 6, promoting her Good American athleisure launch and, honestly, it's pretty badass. In it, Kardashian mugs at the camera rocking her athletic clothing line as the camera pans up to reveal she's on a roof. Inspirational music plays while Kardashian slowly walks between two giant Good American posters announcing it will be sold in the department store Nordstrom. Thompson captioned the video, "Proud of you mama." He also threw on two heart-eyed emojis for good measure.
This is the kind of support and love fans remember. Thompson and Kardashian seemed like a match made in heaven right up until just before the birth of their daughter, True. The same week Kardashian went into labor, videos surfaced of Thompson seemingly kissing other women. Since then, Koko fans have been spiraling out with conflicted emotions while the professional NBA player and reality TV star continue to work on their relationship.
According to Kardashian's sister Kim, fans will see the fallout in the current season of Keeping Up With The Kardashians. Kim visited On Air With Ryan Seacrest and told the host, "We definitely all had that conversation."
Honestly, I don't want to give too much away because we genuinely had those conversations — and sometimes we were filming and sometimes we weren't. It was more maybe when Khloe wanted her privacy and no cameras when she was in Cleveland going through that, [but] the sisters were still all filming and talking [about] how to approach it and what to do.
Kim also noted that had Thompson and Kardashian not had a child together then perhaps everything would have unfolded much differently. "It was definitely new territory for us when you have a new baby coming into the world," she said. "I think ultimately we always want her to be happy, but it gets all clouded when there's a baby, you know?" In the end, Kim says she and her family understand Kardashian has to do what's right for her and her family and she suspects her little sister's "motherly instincts kicked in."
Anyway, fans can apparently tune in to KUWTK for more details on the entire scandal on Sunday nights at 9 p.m. on E! Lord help us.