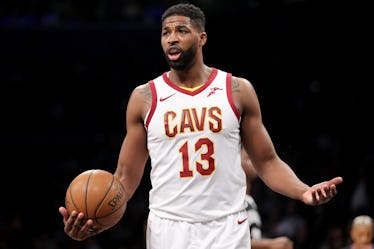 Tristan Thompson's Ex Might Have Called Out His Reported Cheating & I Can't Handle It
Abbie Parr/Getty Images Sport/Getty Images
Tristan Thompson is in some hot water right now. Following reports that the basketball star has allegedly cheated on current girlfriend Khloé Kardashian, his ex Jordan Craig might have called out his rumored cheating via Instagram. Ugh, this story is getting messier and messier.
On April 10, Craig posted a somewhat cryptic message to her Instagram story following reports that Thompson has allegedly been spending quality time with women who are not Kardashian. According to TMZ, Thompson has been allegedly been going out with multiple women on multiple occasions (all of whom have not been identified as Kardashian) and behaved inappropriately. What's worse is that his actual girlfriend is pregnant with their first child together — and due any day now!
We don't know whether or not Craig's post is responding to these rumors or not. But if you know anything about Thompson's past history with his ex, all signs seemingly point to yes. In the post to her IG Story, Craig wrote,
If you respect yourself and you respect others, you would never make light of the misfortune of anyone, nor would you feel indemnified when it comes at the expense of others. Wishing peace for everyone.
Elite Daily has reached out to representatives of both Kardashian and Thompson for comment, but did not hear back at the time of publication.
If you don't know who Craig is, she's a lifestyle blogger that runs her own site and has a massive Instagram following of over 500,000 followers. She also happens to be the mother of Thompson's first child — a 15-month-old son named Prince Oliver.
According to Us Weekly, Thompson began dating Kardashian while Craig was pregnant with their son. Thompson began his new relationship in September 2016, and Craig gave birth in December 2016. There was speculation that Thomson cheated on his then-girlfriend Craig with Kardashian while she was pregnant, and eventually left Craig to pursue the new relationship with the reality TV star.
Knowing this info and the previous rumors of Thompson's infidelity, you can see how what Craig posted to her story might be her reaction to these reports. She writes that she respects herself too much to revel in others' paid, and that she'd "feel indemnified when it comes at the expense of others." Just because Kardashian might be experiencing what Craig has allegedly also experienced with her ex, doesn't mean that she'll feel any sort of satisfaction.
According to TMZ, early on Sunday, April 8 at around 5 a.m. Thompson was reportedly escorting a woman to his hotel at the Four Seasons in New York City. Thomson was visiting the city with his Cleveland Cavaliers team for a game against the New York Knicks. Kardashian is currently nine months pregnant and in Cleveland, on the verge of delivering her first baby.
TMZ also obtained surveillance footage of Thompson allegedly canoodling with multiple women at a nightclub in Washington D.C. back in October 2017. This would have been while Kardashian was three months pregnant.
These allegations against Thompson are pretty serious, and my heart breaks for Kardashian. Knowing how much she's already gone through in her previous relationship with Lamar Odom, the last thing that KoKo needs is to deal with another round of relationship drama. These rumors especially sting after the mama-to-be posted a super cute Instagram of her and Thompson on April 9, with the caption referencing her little bun in the oven which said, "We are ready whenever you are little mama."
Ugh. The tears are welling in my eyes and I can stop them. I just want the very best for Khloé. She is my absolute favorite Kardashian and all I want for her is true and complete happiness.