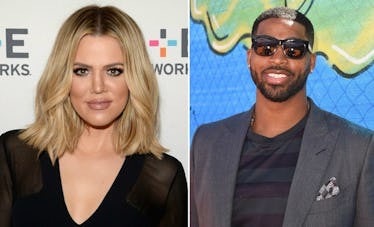 Tristan Thompson's Cheating May Have Affected Khloé Kardashian & True In An Unexpected Way
CHRIS WEEKS/KEVIN WINTER/GETTY IMAGES ENTERTAINMENT/GETTY IMAGES
Khloé Kardashian is opening up about how difficult the first few months of motherhood were on her. While the reality star loves being a mom, she admitted in a recent tweet that some aspects of it were daunting at first. And believe it or not, Tristan Thompson's cheating may have affected Khloé Kardashian and baby True in a way that you definitely wouldn't expect. In a recent tweet, Kardashian revealed that she had some serious trouble breastfeeding True due to "stress," which could have been caused by Thompson's infidelity.
For those of you unfamiliar with what went down, Thompson was seen reportedly cheating on Kardashian just days before Kardashian was due to give birth to True. Elite Daily reached out to Thompson and Kardashian's teams at the time of the reports but did not hear back. The Daily Mail was the first to report about the alleged cheating, and that set in motion what was likely a stressful time for the couple. In recent weeks, Kardashian has had to relive parts of that ordeal thanks to the current season of Keeping Up With The Kardashians.
During a recent live tweeting session during a KUWTK episode, a fan asked Kardashian a personal question about breastfeeding.
"But wait @khloekardashian personal question incoming..... Did it hurt breastfeeding? My sister traumatised me she'd wail every time," the fan tweeted. Kardashian then revealed that breastfeeding was a tough thing for her to do because of "stress."
"I tried breast-feeding for weeks and weeks!" Kardashian said in her Twitter response to the fan. "For me it was so painful but I also was not producing a lot of milk. So I had to pump every time she was napping. I guess due to stress my milk was not coming in. I tried and I just couldn't give her enough. So I had to go to formula."
That brief reference of stress could mean that Kardashian had a lot on her plate while she was trying to breastfeed True. I mean, she was juggling motherhood and reports in the media about her personal life all at the same time, so it makes sense that her stress levels were through the roof.
Another fan chimed in to the conversation to say that a painful breastfeeding experience might be best looked into by a doctor.
"Sometimes when it hurts to nurse it could be that your baby is tongue tied," the fan suggested. "If it ever hurts have your Pediatrician look into this first." Kardashian agreed and gave even more background on her struggle to breastfeed baby True.
"Yes I tried literally EVERYTHING!! doctors came to check, I met with the lactation specialist, I did power pumping, I drink the tea, ate the cookies, did special massages etc," Kardashian said. "It just wasnt working for me. Once True started loosing weight bc of it. I had to give her formula."
So, if Kardashian's inability to breastfeed was, in fact, due to the stress of what was happening with Thompson, then I guess that means his actions had a ripple effect. It definitely wasn't just Kardashian who was hurt by his reported cheating. His baby daughter's weight could have been affected as well, which must've been pretty scary for the new parents. Luckily, Kardashian was able to find an alternative option, and the whole family seems to be doing quite well now.